According To A Physical Therapist, Here's What You Should Look For In Tennis Elbow Brace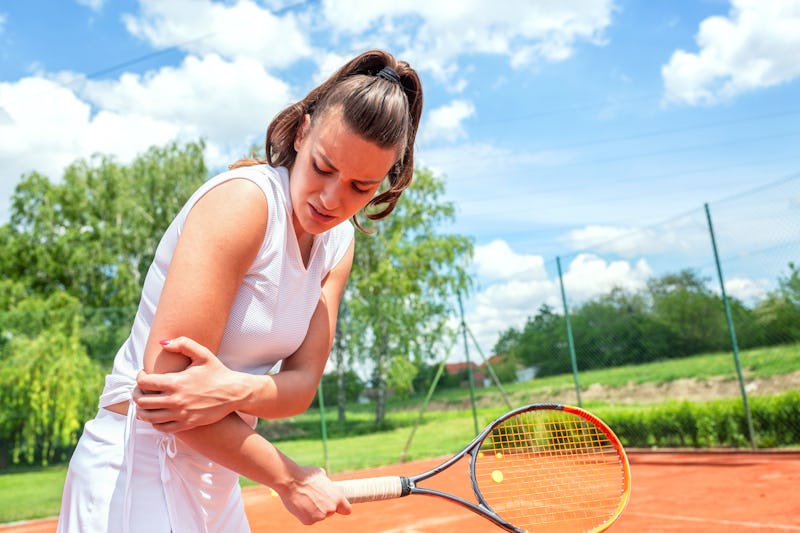 didesign021/ Shutterstock
Contrary to popular belief, tennis elbow is not something that only affects tennis players. If you participate in activities where you repeatedly move your arm in the same way over and over — like golfing, chopping, or even typing — it can take a toll on the tendons in your elbow. Wearing one of the best tennis elbow braces can help relieve pain by restricting the movement of tendons, allowing them to properly heal.
To get more information, I emailed New York-based, board-certified clinical specialist in orthopedic physical therapy, Dr. Karena Wu of ActiveCare Physical Therapy. Tennis elbow, which is also called lateral epicondylitis, is a "condition where the tendons on the outside of the elbow get irritated and inflamed, causing pain," Dr. Wu explains. "It is an overuse, repetitive stress injury of the wrist extensor tendon."
In order to choose the proper at-home device for tennis elbow, Dr. Wu shares these tips:
What characteristics to look for in a brace: "Braces should be rigid and snug, but not constricting. It should restrict the muscle contraction, which takes the pressure off the tendon, limits the wrist movements, and reduces the pain."
How to know if it fits correctly: "The brace should fit approximately two-finger width, one inch below the outside bone of the elbow on the pinky side. The plastic hard piece or air pillow goes over the muscle just below the two-finger distance. The brace should be snug but not constricting and should not slip."
Anything to watch out for? "There should be no discoloration — turning blue or getting puffy — on your hands, [thereby] cutting off your blood supply! Or, any paresthesias, meaning numbness, tingling, burning, pins and needles, or compressing the nerves into the hands. And no sustained and uncomfortable pressure on the bones."
With these tips in mind, below, you'll find a list of the best tennis elbow braces that will help relieve your pain and make you more comfortable. I've also included additional options for a sleeve and a splint, which can also help ease discomfort.