The 4 Best Towel Sets That Real People Use In Their Homes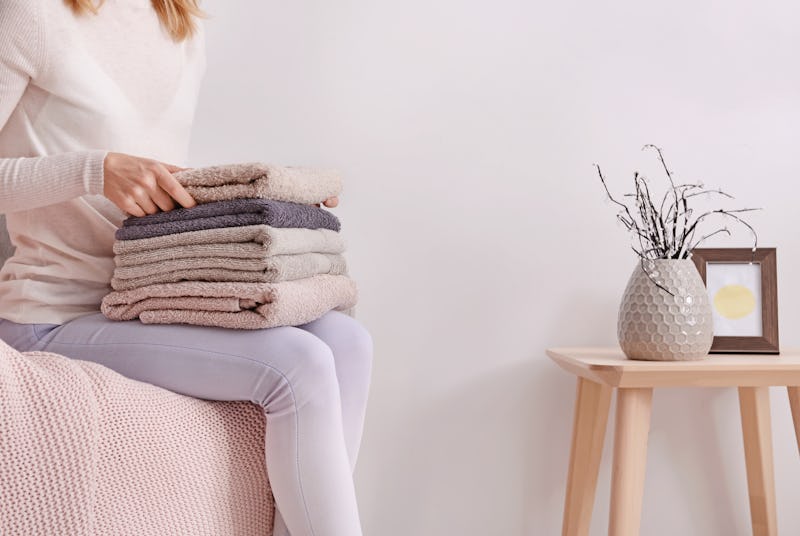 Pixel-Shot / Shutterstock
It's easy to take something as mundane as a towel for granted, but the best towel sets will remind you of how useful and life-changing they can truly be. A warm, soft towel can turn any ordinary shower or bath into a luxurious experience, while multifunctional kitchen towels can improve the way you cook and clean.
There are some things you should consider before purchasing new towels for your home, primarily the material, weight, and size of each towel. Towels can be made of a variety of materials: Cotton and rayon are both commonly used, and they're both soft and absorbent. Cotton towels tend to be stronger than rayon, though — so with durability in mind, all the towels on this list are 100% cotton.
The weight of a towel is often measured in grams per square meter, or GSM. Generally speaking, the higher the GSM, the thicker and more absorbent a towel is going to be. Bath towel weights typically fall between 300 and 900 GSM. Choosing between a lightweight and heavier towel depends on your personal preference, but if you like thicker towels then you shouldn't purchase a bath towel on the lower end of that spectrum. The thickness of the towel can affect its drying time. If you find that your towels tend to hold moisture longer than you'd like, you may want to switch to a towel with a lower GSM or try a quick-drying Turkish towel called a pestemal. However, a kitchen towel doesn't need to be thick to be effective in helping you cook and clean.
Finally, towel sets can include bath towels, hand towels, or washcloths, and the sizes of each towel can differ from set to set. Kitchen towels tend to be in the hand towel size range. You'll want to find a towel set that has the types and sizes of towels that meet your preferences.
Whether you need an absorbent towel set for the bathroom, kitchen, or beach, these are four of the best options available on Amazon: