Foodies Are Obsessed With This $8 Vegetable Peeler — & Yes, Your Kitchen Needs One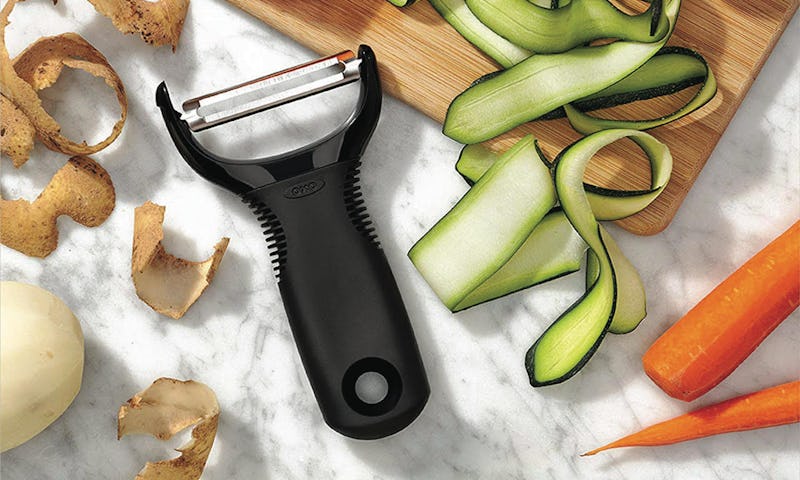 Bustle / Amazon
Peeling carrots or potatoes is one kitchen task almost anyone would appreciate going faster. Fortunately, the best vegetable peelers make peeling vegetables a breeze, thanks to their sharp blades and comfortable handles.
Y-Shaped Vs. Straight Peelers
Vegetable peelers fall into main two camps: straight peelers and Y-shaped peelers. A straight peeler (also know as a swivel peeler) has the blade extending in the same direction as the handle, and most closely mimics using a paring knife. Alternately, the Y-shaped peeler's blade rests perpendicular to the handle, and this style usually has a wider handle that can be used in either hand and held in multiple positions. Some people just enjoy working with one over the other — it's a matter of personal preference. Whichever style you choose, look for one with a blade that swivels, allowing for peeling in each direction and at multiple angles, for a better range of motion.
Blade Material
The next thing to consider is the blade material. A carbon steel blade stays sharper longer than stainless steel, but it does require more care to avoid rust and stains; you'll want to wash this peeler by hand right after each use to maintain it. Stainless steel blades are conveniently dishwasher safe, durable, and better at resisting rust. You may also consider a peeler with a ceramic blade since they're not only lightweight and rust-resistant, but also generally a sharper blade than steel — and one that stays sharp for a longer time. That said, ceramic peelers aren't the most durable choice, since the blades can chip or break when dropped.
In terms of handles, most peelers have ones made of plastic, but for enhanced comfort and safety, look for ones with a rubber grip or a nonslip grip.
Each of my picks below is highly rated on Amazon, with hundreds or thousands of reviews. Keep reading and you'll soon find the best vegetable peeler for you.