If You Have Sensitive Skin, These Are The Safest Vitamin C Serums To Use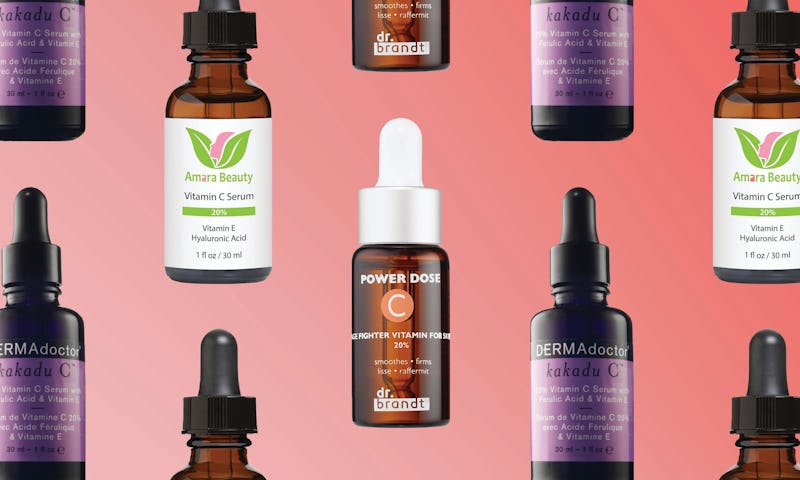 Amazon / Bustle
While drinking vitamin C-rich orange juice or Emergen-C can boost your body's immunity when you feel a cold coming on, vitamin C, when applied topically, increases your skin's level of protection from environmental and sun damage. It also helps improve overall skin tone and texture by working to brighten, fade hyperpigmentation, and accelerate collagen production. However, the powerful ingredient can sometimes cause irritation when used incorrectly (especially if your skin is on the delicate side), which is why it's important to make sure you're using one of the best vitamin C serums for sensitive skin.
If your skin is prone to conditions like rosacea, you can start with a lower concentration of 10 or 15 percent vitamin C to see how your skin tolerates it before working your way up to 20 percent. No matter what percentage of vitamin C you choose, start off by applying your serum every other day to build up your skin's tolerance and avoid any irritation. As long as you aren't noticing any redness or sensitivity after a few weeks, you can increase to daily application, and eventually twice daily, if you wish.
In addition to avoiding common skin irritants like synthetic fragrances or dyes, it's also helpful for sensitive skin types to look for a vitamin C serum that's paired with skin-soothing and hydrating ingredients to keep signs of inflammation at bay. Ingredients like vitamin E, glycerin, hyaluronic acid, and aloe are all solid choices. Ferulic acid is also commonly paired with vitamin C because it's rich in antioxidants and improves the stability of both vitamins C and E.
Because vitamin C works to protect your skin from outside elements like pollution and sun damage, you'll want to apply several drops of your vitamin C-packed serum in the morning on clean skin. If you want some extra hydration, apply a gentle moisturizer on top that's free of any acids or other potentially irritating ingredients like retinol (that should be reserved for your nighttime routine). Top it off with sunscreen for maximum protection from the sun, and you'll be well on your way to a brighter, healthier looking complexion.
Ahead, you'll find four of the best vitamin C serums for sensitive skin, from the splurge-worthy to the seriously budget-friendly.