There's An Easier Way To Floss If You Have Braces — & It Involves These Water Flossers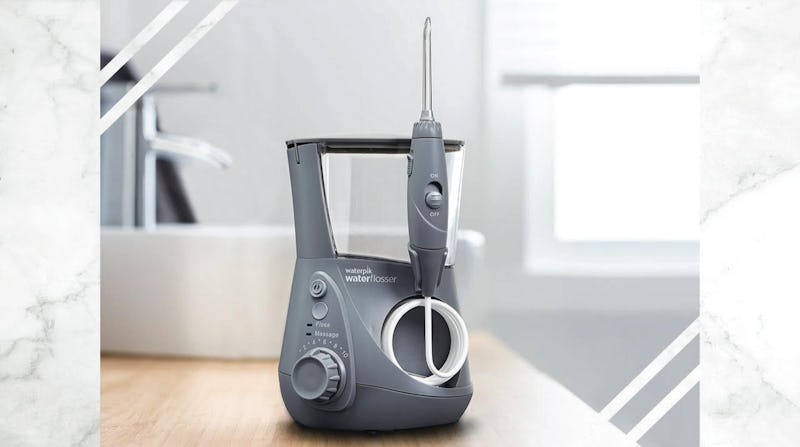 Amazon / Bustle
When it comes to braces, it's super easy for food to get stuck in in them and not so easy to remove said food — or plaque, for that matter. But thanks to a combination of various water pressure settings and well-designed jet tips, the best water flossers for braces effortlessly remove plaque and food from orthodontics, preventing bad breath, gum disease, and cavities.
Water flossers use jet tips to direct a stream of water to your teeth and gums, removing plaque and debris from between the teeth and braces. And while all jet tips work to dislodge plaque and flush away bacteria, certain tips feature a tapered brush specifically designed for removing plaque directly from braces.
Most water flossers have multiple water pressure settings, so you can choose the cleaning power that's most comfortable for your teeth, but certain flossers feature a wider range of settings, as well as a gum massage mode. Just be aware that these bonus features tend to cost more.
Beyond that, you'll want to consider the flosser's power source. You can choose between USB-rechargeable, battery-powered, or one that stays plugged in all the time. A plug-in flosser is the easiest to maintain and has the largest water reservoir, so you won't have to refill it as often, but it takes up more space on your bathroom counter and is less portable. The other options are smaller and more portable, but you'll need to remember to recharge or replace batteries.
While braces are hard at work aligning your teeth, the best water flossers for braces will help keep your teeth and gums as clean as possible.
We only recommend products we love and that we think you will, too. We may receive a portion of sales from products purchased from this article, which was written by our Commerce team.