4 Cult-Favorite Makeup Removers That Dissolve Waterproof Mascara In *Seconds*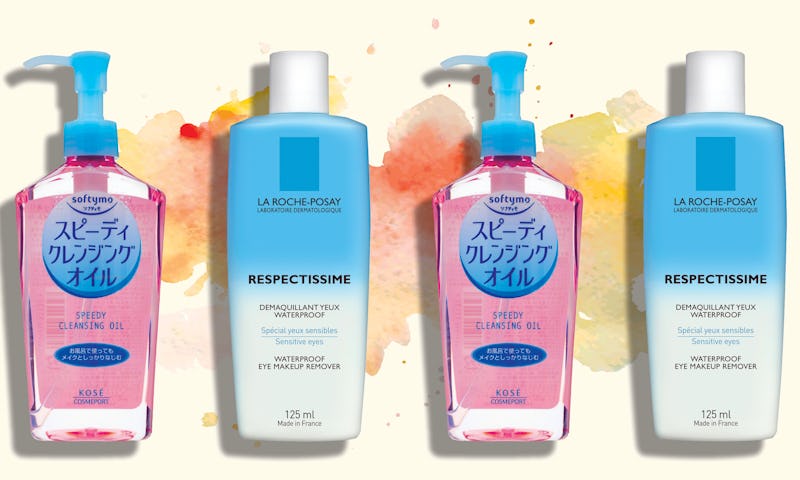 Amazon/Bustle
Waterproof mascara is perhaps one of the most genius makeup inventions of the past century. But as anyone who loves a waterproof formula knows, taking it off can be ridiculously tough. So tough, in fact, that if you don't use the right makeup remover, you might want up damaging your eyelashes — or worse, losing a few in the process. This is why it's so important to make sure you're using one of the best waterproof mascara removers as the first step in your cleansing routine; with these bad boys, you'll reduce the risk of irritating your eyes or damaging your lash hairs since they're specifically formulated to make short work of waterproof eye makeup removal.
What is the best way to remove waterproof mascara?
There's more to properly (and effectively) removing your waterproof mascara than the product you use — the method is important, too. Users from Reddit's devoted r/AsianBeauty community claim the best way to do it is with a wand or spoolie dipped in product: After each lash is coated, proceed to washing your face (cleansing oils will be the most effective) or further soaking your eyes with a makeup remover-soaked cotton pad. If that sounds like too much of a process, you can try nixing the spoolie part and allowing the soaked cotton pad to sit on your eyes for 15 to 30 seconds before wiping it all away. Others suggest following the same process with a microfiber cloth, then soaking it in warm water and repeating.
Ahead, find four eye makeup removers that are guaranteed to take off even the most stubborn mascara.