These Whetstones Are A Must-Have For Serious Cooks To Sharpen Knives At Home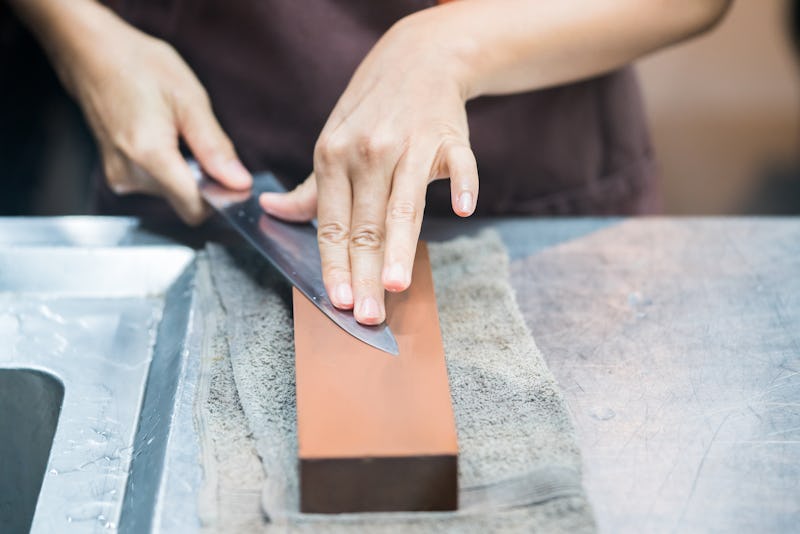 Shutterstock
When it comes to the knife sharpening tools, culinary professionals typically prefer a whetstone because they allow you greater freedom to hone blades to any angle. The best whetstones are ones that come in a set, which contains several double-sided sharpening stones all with different levels of grit. These will give your knives the right sharp edge so they are effective and safe for all your cooking needs.
To get started finding the right set for you, it's helpful to understand how to use a whetstone and why so many culinary professionals prefer to use one. These rectangular blocks — which can also be called water or sharpening stones — basically function exactly like sandpaper for knives: the lower the number of grit, the more coarse the stone is. Consider 1,000 to 3,000 grit as your go-to for sharpening the average dull knife. Anything lower is intended to repair chip, and higher is more for refining and polishing.
To give you the best variety, the best sharpening stone kits will come with varying levels of grit. You may also get extras like a flattening stone for evening out surfaces, or a base that locks the block firmly in place on your counter.
Finally, remember there is a big learning curve when it comes to sharpening with a whetstone. It requires a freehand technique where you manually rub the blade across the surface at different angles until you get your desired result.
And if you're not quite ready to hone your skills on a stone, look for a gadget that features a pull-through design. They will still make your knives sharp and costs much less.
Scroll below to find a list of the best sharpening stones available on Amazon!
We only recommend products we love and that we think you will, too. We may receive a portion of sales from products purchased from this article, which was written by our Commerce team.