These Highly Rated Whistling Tea Kettles Sing A Tune When Your Water Is Ready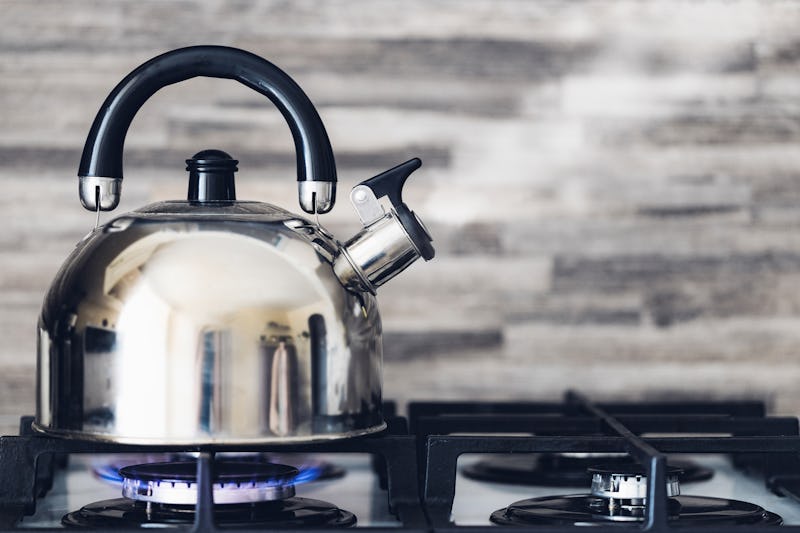 Shutterstock
With no need for a timer or babysitting, a whistling tea kettle humbly lets you know when its work is done. But while it's a relatively straightforward purchase, all kettles aren't created equal. The best whistling tea kettles are made of stainless steel and offer a comfortable pour day after day.
Here's what to know before you shop.
Materials
Shopping for tea kettles will lead you to a lot of stainless steel options, which are popular for being durable yet lightweight. Resistant to rust, stainless steel is a stronger material overall and more high-end looking than alternatives like zinc alloy.
An enamelware coating may be added to protect the kettle's metal, add attractive colors, and create better heat conduction, though it's often at a premium and should never be left empty for too long on your heat source, which can result in a damaged coating. In any whistling tea kettle, built-up steam creates vibrations that eventually result in a whistle based on the kettle's design; some whistling kettles may be louder than others.
Handles
The best tea kettles have heat-resistant handles wrapped in silicone or plastic/synthetic materials for safe pours of hot or boiling water. Some tea kettles even have rotating handles for a more comfortable refilling of the kettle. A well-designed handle also keeps your hand out of hot steam's path as you pour.
Size
Most tea kettles hold about 2 quarts of water. For one or two cups at a time, a tea kettle on the smaller side will serve you well. Smaller kettles will also be easier to store if you don't need to use a kettle every day. Avid tea drinkers or those serving a group may prefer a larger tea kettle to cut back on trips to the stove.
Below are the best whistling tea kettles, whether you drink tea occasionally or every day.
We only recommend products we love and that we think you will, too. We may receive a portion of sales from products purchased from this article, which was written by our Commerce team.