Why It's So Remarkable That This 49ers Cheerleader Kneeled During The Anthem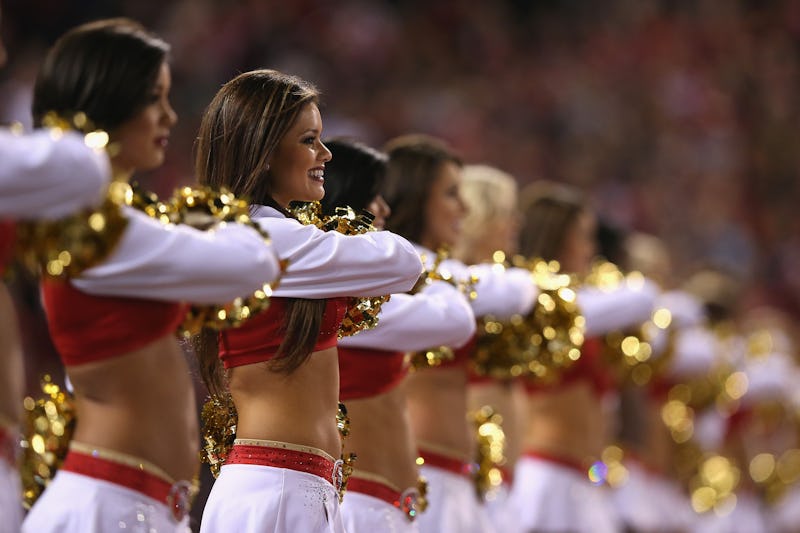 Ezra Shaw/Getty Images Sport/Getty Images
More than two years after then-San Francisco 49ers quarterback Colin Kaepernick first opted to sit as a form of silent protest during the national anthem, an unidentified NFL cheerleader has followed suit. A 49ers cheerleader was seen kneeling during the national anthem Thursday when the 49ers played local rival the Oakland Raiders. While Kaepernick's controversial action spurred dozens of players across the league to join him in sitting, kneeling, or raising their fist during the national anthem as a means of protesting police brutality and racial injustices, Thursday's incident is believed to be the first time an NFL cheerleader has joined the protest.
A photograph snapped, and shared, by NBC News reporter Damian Trujillo captured a 49ers cheerleader kneeling on one knee with her hands and poms placed squarely on her hips as the flag was displayed on field during the national anthem just prior to kick off at Levi's Stadium. The rest of the San Francisco 49ers cheerleaders can be seen standing in formation — with one hand on their hip and one arm outstretched — around the kneeling NFL cheerleader. Bustle has reached out to both the 49ers and the NFL for comment.
While the cheerleader in question has not yet come forward to discuss her reasons for kneeling, the gesture is heavily reminiscent of Kaepernick's protest.
The first time Kaepernick sat in protest during the national anthem came during the 2016 preseason. According to SB Nation, Kaepernick's controversial protest wasn't noticed right away. He reportedly sat — albeit out of uniform — for at least two preseason games before his protest made headlines. At the time, he told NFL.com he was hoping to use his platform as a player to raise awareness about issues like police brutality and racial injustice.
"I am not going to stand up to show pride in a flag for a country that oppresses black people and people of color," Kaepernick told NFL.com. "To me, this is bigger than football and it would be selfish on my part to look the other way. There are bodies in the street and people getting paid leave and getting away with murder."
At the time, both the NFL and the 49ers said Kaepernick had a right not to stand for the national anthem, NFL.com reported. But as dozens of other players began to sit, kneel, or raise their fist as a means of either joining or supporting Kaepernick's national anthem protest, criticism against the quarterback mounted. And by the time the 2017 NFL season began, no team had signed Kaepernick, and he didn't play in the NFL that year and hasn't since.
While Thursday's incident appears to be the first time an NFL cheerleader has ever knelt during the national anthem, it's reportedly not the first time cheerleaders have waded into the national anthem protests. According to CNN, Howard University's entire cheer squad knelt for the anthem when the university's football team played in the now-discontinued AT&T Nation's Football Classic at RFK Stadium in September 2016.
It remains unclear if other cheerleaders will follow suit.