Your Skin Will Glow With These Exfoliating At-Home Microdermabrasion Options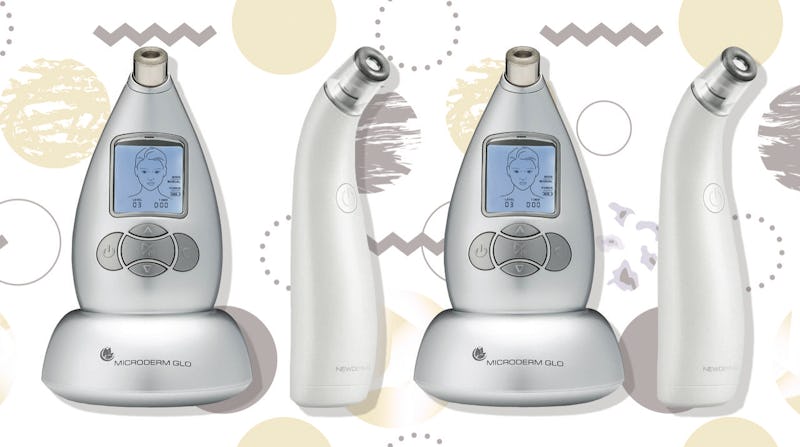 Amazon
Regularly exfoliating your face is an important part of any skincare routine for brighter, even-toned skin. Microdermabrasion buffs away dull skin, and though salon or medical treatments will give the most dramatic results, the best at-home microdermabrasion tools gently and effectively remove the top layer of skin, revealing a smoother, softer face at a fraction of the cost.
Any microdermabrasion machine will polish and slough away dead skin cells, but there's more than one mechanism for you to consider. Crystal microdermabrasion blasts micro crystals through a wand onto your skin and then the same tool vacuums up the loose particles through a different tube. Instead of crystals, newer diamond-tip microdermabrasion uses an abrasive tip on the tool to exfoliate skin with fewer loose particles to vacuum up. The diamond-tip method can be gentler on sensitive skin and more precise for reaching delicate areas. This method also tends to be more expensive upfront but pays for itself in replacing or stretching out spa visits. Higher quality microdermabrasion machines may have stronger suction power for increased blood flow and collagen production and/or several suction heads for variety. Most machines will have at least 16 inches of mercury (in/Hg), which measures pressure, and more powerful models can have as much as 25 in/Hg suction.
Microdermabrasion scrubs are a more affordable option and may be easier to incorporate regularly into your routine since you can even keep it in your shower. Scrubs work similarly to super-fine crystals by using physical or chemical exfoliant ingredients. Both can be effective, but chemical exfoliants tend to be less abrasive and gentler on skin.
The benefits of microdermabrasion extend to several common skin concerns, including evening out skin texture and tone, reducing discoloration or scars, and deep cleaning pores. With at-home microdermabrasion machines now available for any budget —and the best ones listed below — you can find one that fits into your skincare routine.
We only recommend products we love and that we think you will, too. We may receive a portion of sales from products purchased from this article, which was written by our Commerce team.