These 5 Trash Cans Are The Perfect Size For Your Bathroom — & Reviewers Love Them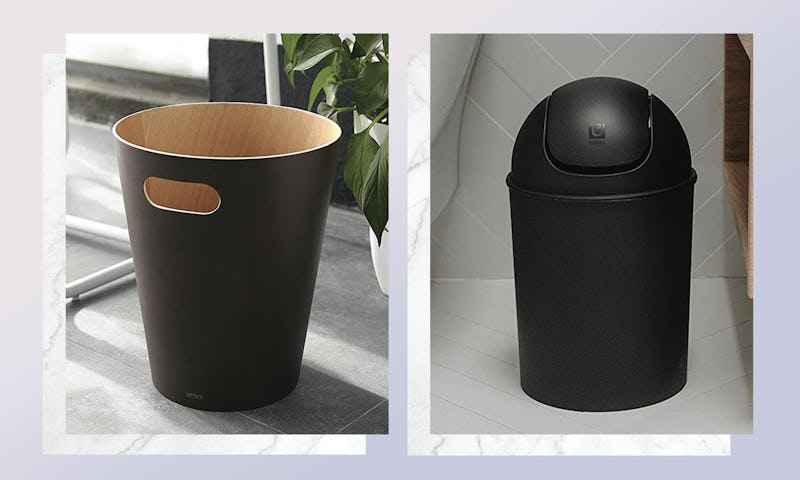 Bustle / Amazon
For an item that's used daily in most homes, it's worth investing in one of the best bathroom trash cans. It's a little thing, but picking one in the right size and material for your lifestyle can make a meaningful difference.
That said, not all cans are created equal, so consider the following:
Size: Bathroom trash cans are smaller than those in your kitchen, and the average bathroom trash can holds about 2.5 gallons — but smaller and larger versions are certainly available, too. A larger bin may be preferable if you have more than one or two people using a bathroom, but if you're one to regularly take the trash out, a smaller can will do.
Features: Some trash cans also have an inner bucket to make emptying it even easier, plus it's an eco-friendly option you can use without a bag. And though many trash cans are round or semi-round, a rectangular bin may be a better fit for a slim spot, like next to the toilet. Trash cans with lids help keep odors from permeating the rest of the bathroom and also help keep nosy pets (or toddlers) out. Bins without lids are convenient for use under the sink (or for those who don't want any barriers to tossing items in).
Materials: Trash cans made of stainless steel will last a long time thanks to the material's durable nature, and it helps contain odors. Plastic bins, on the other hand, are more lightweight and affordable while also being fairly durable. But if you're going for a spa-like vibe in your bathroom, you may prefer wood's natural texture.
No matter your style, keep reading to find the best bathroom trash can for your space.
We only recommend products we love and that we think you will, too. We may receive a portion of sales from products purchased from this article, which was written by our Commerce team.