The 5 Best Benzoyl Peroxide Products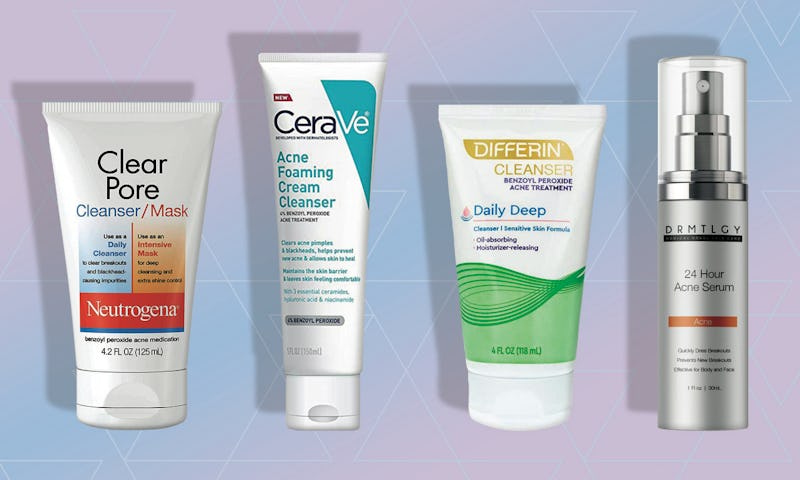 Bustle/Amazon
Few over-the-counter ingredients are as effective at treating acne than benzoyl peroxide. But with so many different benzoyl peroxide-infused formulas on the market — cleansers, serums, spot treatments, et cetera — where does one even start? To figure out how to choose the best benzoyl peroxide products, I spoke with two experts: Gary Linkov, MD, a board-certified facial plastic surgeon and founder of City Facial Plastics in New York, and Zain Husain, MD, FAAD, a board-certified dermatologist and fellowship-trained Mohs micrographic surgeon.
But first, some science. "Benzoyl peroxide is similar to hydrogen peroxide in that it releases oxygen on the skin to destroy bacteria," Dr. Linkov explains. "It also has anti-inflammatory and comedolytic properties, which helps open up pores and decrease inflammation on the skin." Not only can benzoyl peroxide effectively treat acne, but my experts say it helps reduce blackheads and whiteheads, too.
Benzoyl peroxide comes in a range of strengths, but Dr. Husain says that a higher number doesn't necessarily mean it's better. "Studies have shown that lower percentages of benzoyl peroxide products (2.5-5%) are just as effective as higher concentrations (10%). Higher concentrations of benzoyl peroxide can lead to more dryness and irritation." Though the ingredient is safe for use on most skin types, "People with sensitive skin should use benzoyl peroxide products with the lowest concentrations, and it should be avoided completely in pregnant women or those planning to get pregnant," notes Dr. Linkov.
You can find benzoyl peroxide in a variety of different products, and Dr. Linkov says that it's up to each individual to decide which one works best for them. To help get you started, you'll find five of the most highly rated and well-reviewed benzoyl peroxide products on the market, just ahead.