These Are The Brushes Long-Haired Cat Parents Need For Shine, Tangles, & Shedding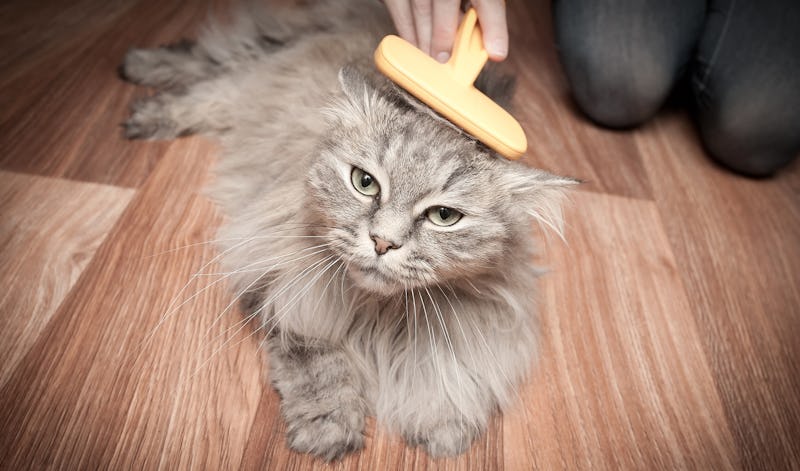 Telekhovskyi / Fotolia
Cats are great self-groomers, but when it comes to keeping coats shiny and unmatted, they can still use a little help, especially long-haired cats. To choose the best brushes for long-haired cats, look for styles with longer bristles that will still be gentle on your cat's very delicate skin so you can get all the way down to the undercoat without applying uncomfortable amounts of pressure.
Especially if your cat is particularly prone to tangles and mats, it's a good idea to start with a wide-tooth comb instead of a brush when grooming long-haired cats, according to cat behaviorist Pam Johnson-Bennett's best-selling book Think Like A Cat.
And when it comes to the brush itself, while slickers with a flat or mostly flat set of bristles are the most common and work well for short-haired cats, Johnson-Bennett recommends a pin brush for long-haired cats. Pin brushes more gentle for daily use and less likely to cause frizz. However, they're not the best for detangling so it's important to start with combs if that's an issue.
While many short-haired cats are fine with a thorough brushing two to three times a week, it'd smart to brush long-haired cats daily. If you're brushing daily with the right tools, regular brushing sessions should only take a few minutes for most cats. This ritual is not only a great way to prevent mats, distribute oils through the skin and hair to maintain coat health, and cut down on hairballs, but daily grooming also helps deepen the bond you have with your cat and get your cat used to being handled.
To get your grooming routine started, find the best top-rated brushes for long-haired cats on Amazon below.