Hundreds Of Reviewers Swear By These CBD Gummies To Relax & Even Sleep Better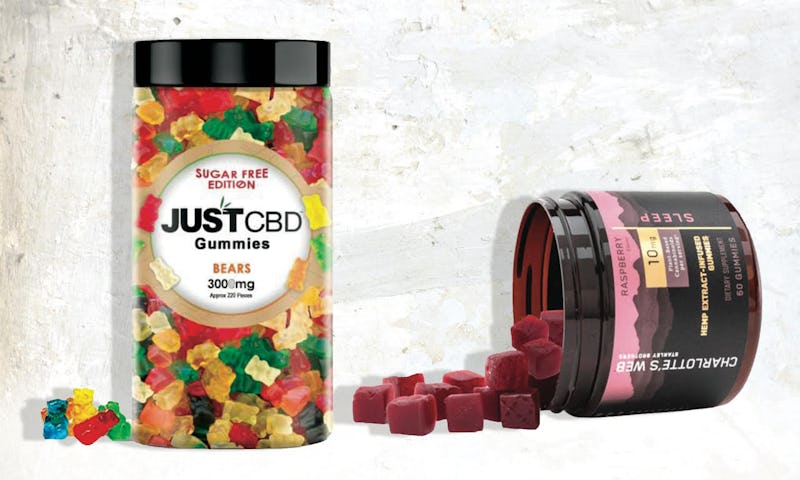 Bustle / Just CBD + Charlotte's Web
In recent years, a lot of people have turned to cannabidiol (or CBD) to help with stress and sleep issues. While it comes in various forms, the best CBD gummies combine the nonintoxicating benefits of CBD with the taste and texture of candy. It's no wonder they're skyrocketing in popularity — but some brands are definitely better than others.
If you're wondering where to buy the best CBD gummies, the internet is probably your best bet. Because local legality is always changing, it can be difficult to find consistent, well-made options in-person — but select online companies have products that are readily available and held to high production standards.
First, you'll want to choose a brand that offers full- or broad-spectrum products. This means gummies that contain a range of the naturally occurring cannabinoids are believed to provide the most therapeutic effects. If a wide variety of them are present, these cannabinoids work together so they're more effective in offering relief.
Next, consider the dosage. The potency of CBD is measured in milligrams. The ideal dosage widely differs from person to person, and while these do have a suggested serving size on the bottles, there aren't standard guidelines. Some experts suggest that 20 to 40 milligrams is a good starting point. If you're new to CBD gummies, it's a good idea to start with one low-dose gummy and wait to see how it affects you. A couple of the picks below are 5 milligrams per gummy, which makes low-dosing a lot easier. Since gummies have to work their way through the digestive tract before you feel the effects, they don't kick in right away, so you should wait anywhere from two to six hours.
Scroll on for five of the best CBD gummy brands the internet has to offer.
We only recommend products we love and that we think you will, too. We may receive a portion of sales from products purchased from this article, which was written by our Commerce team.