These Chamomile Shampoos Give Your Hair A Natural Brightening Boost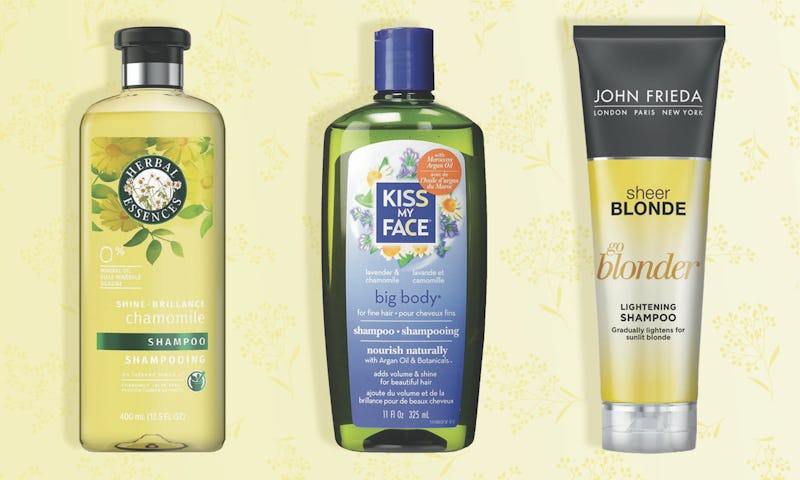 Bustle/Amazon
Every once in a while, there comes an ingredient whose multitasking benefits inspire a whole crew of products. Chamomile extract is one of those ingredients, and it's beloved in the hair-care industry for its natural ability to nourish the scalp, strengthen hair, and, even more impressively, brighten blonde tones. In fact, the best chamomile shampoos can help extend the life of pricey color treatments because of the way they enhance highlights and boost shine.
One of the most popular uses for chamomile shampoo is to brighten blonde hair, since chamomile extract contains apigenin, a natural yellow pigment found in chamomile flowers. Because apigenin lightens blonde hair without ever penetrating the cuticle, you don't have to worry about it drying or damaging your hair like peroxide- and ammonia-based products can. But chamomile shampoos aren't just for blondes. Because chamomile has natural anti-inflammatory benefits, it can also help soothe irritated scalps and therefore, potentially even reduce dandruff. That, coupled with its shine-enhancing abilities, make chamomile shampoo a wonderful choice for all hair colors and hair types.
Ahead, find five of the best chamomile shampoos to try now. You'll find an option for every hair type and every budget, including a shampoo for babies, a sulfate-free formula, and an all-natural pick that helps boost volume.