The 5 Best Chef Knives Out There Are Being Sold On Amazon — & They'll Seriously Change The Way You Cook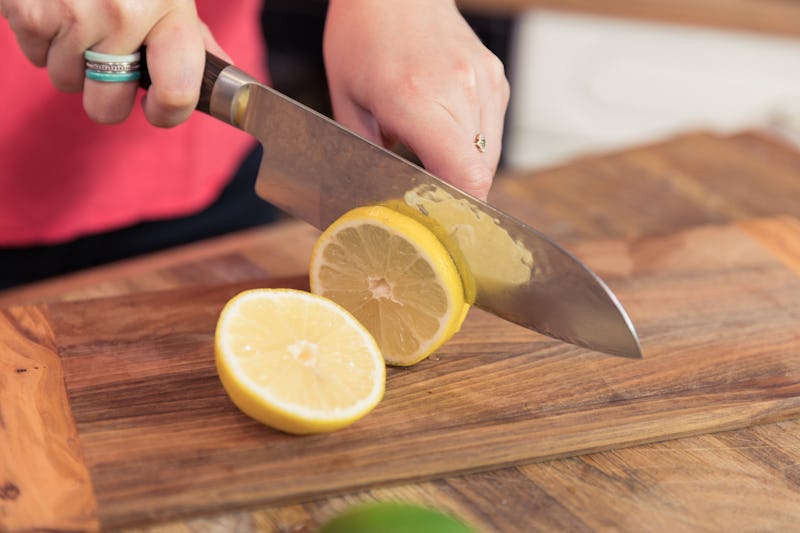 FotoCuisinette / Shutterstock
While some knives are intended for specific uses, a chef (or chef's) knife is a super versatile tool. Whether you're a beginner or pro, the best chef knives on Amazon can handle lots of tasks, including slicing, dicing, and mincing. But selecting the right blade for you and your kitchen requires taking some time to consider which style and size would best suit your needs and lifestyle.
Japanese-style versus German-style chef knives
The most common chef's knives usually fall into two categories, Japanese and German styles, though some knives combine aspects of both types. Choosing between these two styles is a matter of personal preference; the key is to pick one that is most comfortable for you to maneuver.
Japanese-style chef's knife: A Japanese chef's knife is usually lighter and sharper than a German-style knife. This type of knife has a very thin blade without much of a curve to it, so it is a good pick for delicate tasks like cleanly cutting veggies. However, a Japanese chef's knife is more prone to breaking or chipping (especially if you use it on heavy-duty jobs).
German-style chef's knife: A German-style chef's knife is usually thicker and bulkier than a Japanese pick. It also tends to be on the heavier side. This type of knife has more of a curve on the cutting edge, which facilitates the rocking style of chopping. A German chef's knife is a good choice for big tasks like breaking down a chicken, though it can really be used for anything.
Blade size
The blade of a chef's knife range from 6 to 14 inches long. Choose the size that's the most comfortable for you. If it's too long, you might find the knife difficult to maneuver, but if it's too short, your cuts might be inconveniently short, too. Generally speaking, an 8-inch blade is the sweet spot, because it's long enough to halve large vegetables, but short enough that most home cooks are still able to feel in control. All of the picks on this list are 8 inches long, but some are also available in other lengths.
Chef's knives can cost hundreds of dollars — but they certainly don't have to. While some pricey picks are certainly top-of-the-line, there are also some really solid chef knives in a far lower price bracket. To help you narrow down your options, here are five of the best chef knives on Amazon.