These No-Mess Cleansing Pads Are The Easiest Way To Treat Acne & Clogged Pores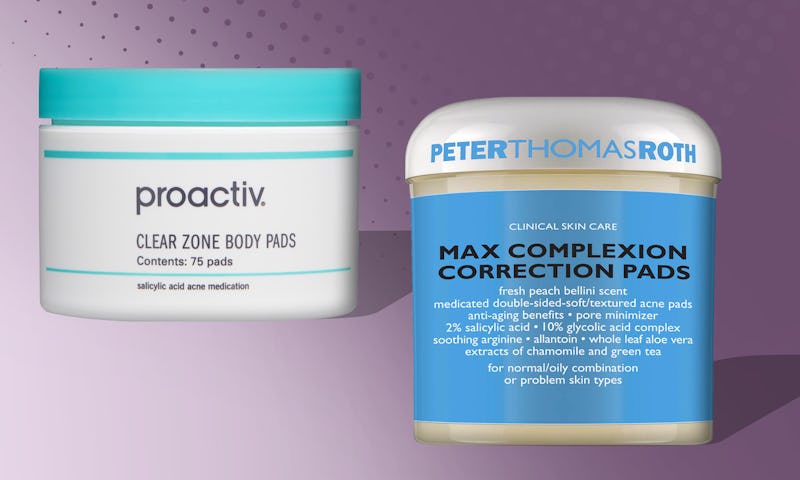 Amazon/Bustle
Elaborate skin care routines have seemingly become the norm, which makes no-fuss, easy-to-use products all the more welcome — especially when it comes to acne. Using a cleansing pad after washing your face (in the morning or at night) is a quick and effective way to heal current breakouts and prevent future flare-ups from happening. But to find the best cleansing pads for acne, you're going to want to pay attention to the ingredients.
If you were big on cleansing pads in your high school days (hi, same), you'll probably remember how drying they could be, due to alcohol landing towards the top of the ingredients list. Today, most brands offer alcohol-free formulas that still contain enough salicylic acid (one of the most effective acne-fighting ingredients out there) to unclog pores without turning your skin into the Sahara, though if your skin is extremely oily, you might actually want a formula with alcohol.
Though salicylic acid is nowhere near as harsh as alcohol, it can still be drying, so be sure to moisturize twice daily. Also, to avoid further throwing your skin out of whack, start by using your acne pads once a day, twice a week (you can work your way up to once daily as your skin gets used to them). And since salicylic acid can make your skin more sensitive to the sun, don't forget to be extra vigilant about SPF.
Ahead, you'll find five of the best acne pads on the market — from the most travel-friendly to the best for sensitive skin.