The Best Tools For At-Home Extractions — Plus Tips From The Queen Of Facials Herself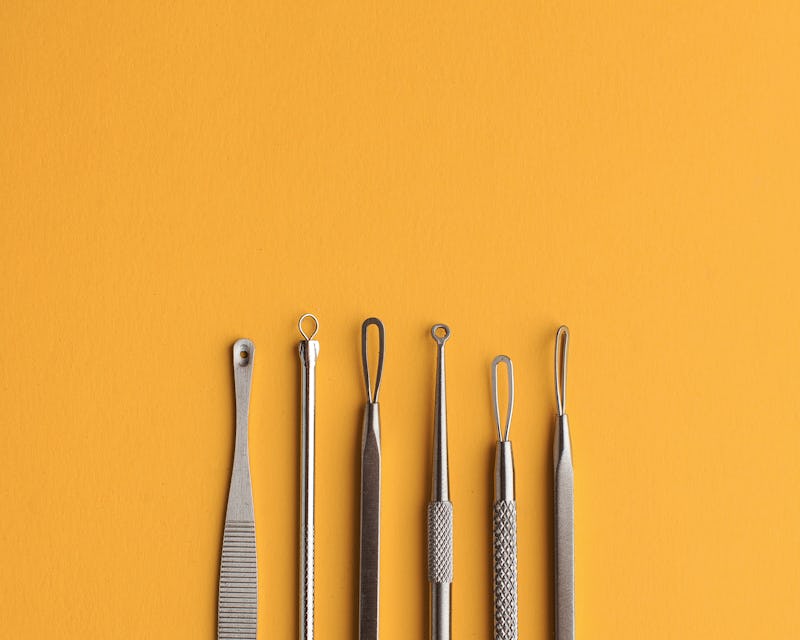 Shutterstock
You've been told not to touch blemishes on your face, but let's face it: Often, the temptation can feel impossible to resist, and you wind up doing it anyway. In other words? If you're going to extract your own blemishes, you might as well learn how to do it properly. For expert guidance, Bustle spoke with celebrity esthetician Renée Rouleau, who shares her insights on the best comedone extractors and how to do DIY extractions safely, ahead.
To start, Rouleau recommends doing extractions immediately after a shower, when your skin temperature has been raised. "This will soften the hardened oil within the pore, making for easier extractions," she explains. Cleanse your skin using a gentle exfoliating cleanser (like Rouleau's AHA/BHA Blemish Control Cleanser) to remove surface dead skin cells, which will make purging the congested pore easier. As a trained professional, Rouleau uses her fingers to do extractions, but says a tool can make it easier for someone who isn't as confident with their skills. After doing extractions, avoid using acid-based products for at least 24 hours, and always sanitize your tools before and after putting them anywhere near your face.
Keep in mind that there are some blemishes you shouldn't touch, Rouleau cautions. "If you have a cyst, the infection will not come up to the surface. It will stay deep within the skin until the body eventually re-absorbs it." In other words, if the pimple hasn't come to a head, hands off!
With that in mind, scroll on to shop the best pimple popping tools and blackhead removers you can buy on Amazon.
We only recommend products we love and that we think you will, too. We may receive a portion of sales from products purchased from this article, which was written by our Commerce team.