5 Cruelty-Free & Reef-Safe Sunscreens You Can Feel Good About Using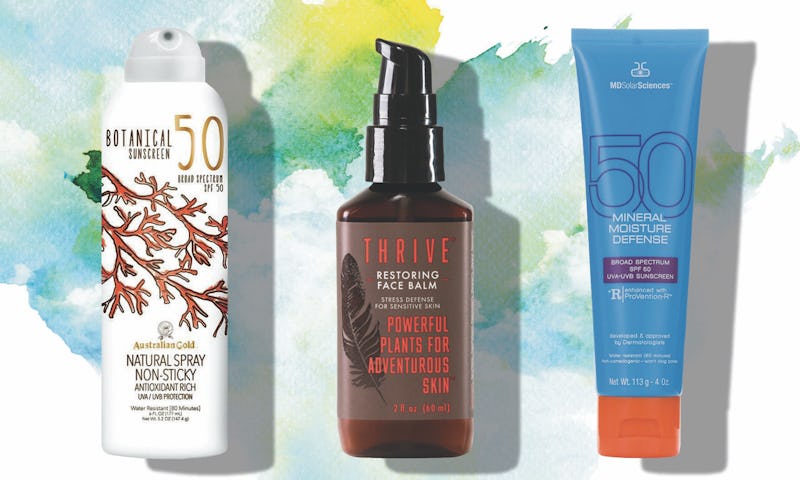 Amazon/Bustle
Getting people to wear sunscreen used to be every dermatologist's primary concern. But now that the general population knows about the health risks and skin damage that sun exposure causes, there's a whole new sunscreen concern: Are the ingredients safe for me and the environment? While this includes a whole list of criteria (more on that, ahead), choosing a sunscreen that's cruelty-free is at the top of the list. But since you still want an option that actually protects you from the sun without leaving behind a white cast or sticky film, only one of the best cruelty-free sunscreens will do.
Because there's no one-term-fits-all when it comes to choosing beauty products that are "good" for you, animals, and the environment, it gets complicated. Obviously, to be considered cruelty-free, the sunscreen company in question can't test on animals. But does a cruelty-free sunscreen also need to be coral reef-safe, since damage to coral reefs affects marine life by extension? Ethically, I think yes, which is why every sunscreen on this list is both cruelty-free and reef-safe.
Without getting too technical, when it comes to sunscreen formulations, you have two choices: chemical or mineral filters. In the past, chemical filters have widely been used because they absorb better into skin and are easier to formulate (though they also tend to be more irritating for anyone with skin sensitivities). But in recent years, two widely-used chemicals in particular, oxybenzone and octinoxate, have been deemed damaging to coral reefs, and they were even banned in Hawaii.
That's where mineral filters come in. Identifying a mineral sunscreen is simple, as there are only two mineral UV filters that will appear on the "active ingredients" list: zinc oxide and titanium dioxide. Mineral sunscreens are approved safe for use when it comes to coral reefs and sensitive skin types. They also tend to be the UV protection of choice by natural brands that prioritize being cruelty-free, which makes them an all-around winner.
Ahead, find five of the best cruelty-free sunscreens that are also reef-safe.