A Dermatologist Breaks Down The Best (& Worst) Eczema Cream Ingredients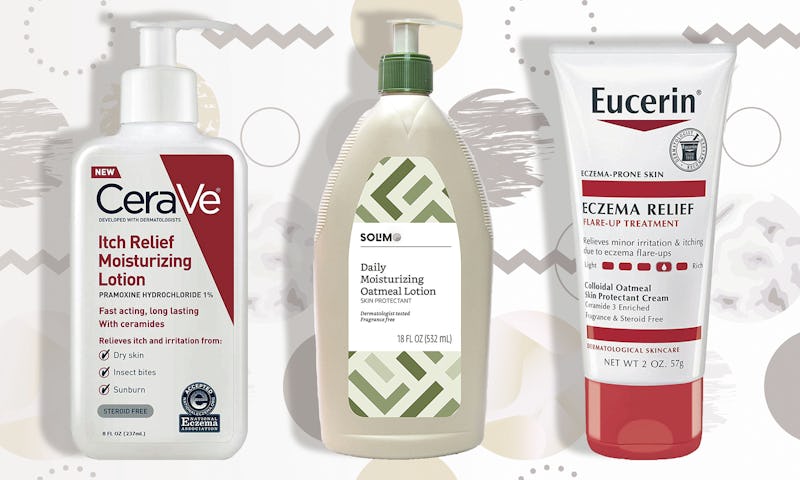 Amazon / Bustle
If you have eczema, then you are all too familiar with some of the symptoms, including itchiness, dry skin, and rashes. Luckily, the best eczema creams can help. According to dermatologist Meghan Feely, MD, FAAD, the key is applying these creams head to toe within minutes of bathing (and on your hands after washing them) in order to lock in moisture, she told Bustle in an interview. This is super important because people living with eczema actually have a damaged skin barrier (so their skin is extra sensitive to bad stuff like irritants, allergens, and bacteria, and it's also harder for their skin to retain water), and so these creams offer protection for the skin, according to the National Eczema Association.
When picking an eczema cream, Dr. Feely has a couple of things that she recommends. She first says to "avoid fragrances and preservatives, such as parabens, as these can irritate the skin." Oh, and make sure that the product is actually fragrance-free, not just "unscented." (An unscented product often contain fragrances meant to neutralize odors.) She also says to pick a product that is dye-free. Another helpful tip? Look for products that contain ceramides and other lipids, which help to lock in moisture (and keep impurities out). Just keep in mind that the symptoms of eczema can totally vary from person to person, so what works for one might not work for another.
Whether you prefer the ease of a pump, the portability of a tube, or want an extra dose of itch relief, there's a top-rated pick for the eczema on your skin or your child's skin.