If You Have Sensitive Eyes Or Skin, You Need One Of These Non-Irritating Eye Creams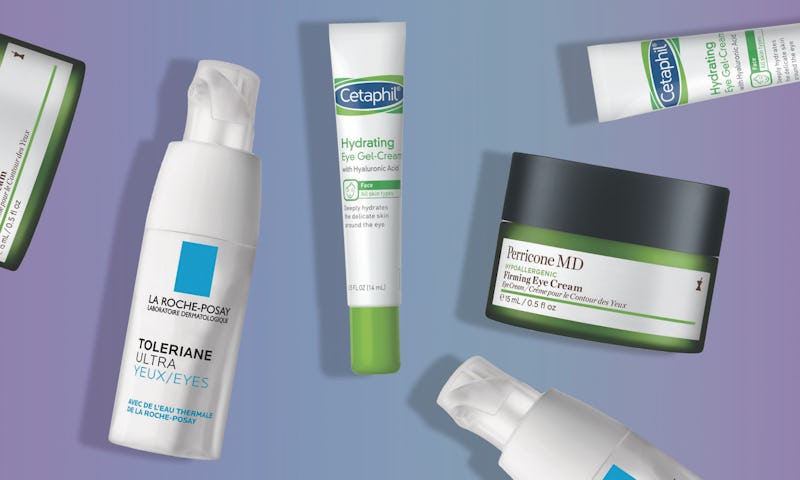 Amazon/Bustle
Navigating skin care is hard enough when you have reaction-prone skin that's easily triggered by the wrong ingredients. But finding an eye cream can often seem like an impossible task since the skin around the eyes is thinner and even more delicate than the rest of your face. Plus, symptoms like itchiness, redness, and watering eyes — all signs your eye cream doesn't agree with you — can easily be confused with seasonal allergies. To ensure you're using one of the best eye creams for sensitive skin, there's one simple rule to keep in mind: the more basic, the better.
In addition to scoping out the ingredients list for anything you already know you're allergic to (like propylene glycol, for example), looking for a formula that's fragrance-free and dermatologist- or ophthalmologist-tested is a good start. If you're on the hunt for an eye cream that hydrates, look for gentle moisturizers like glycerin, hyaluronic acid, or squalane, which your body already naturally produces.
Sensitive skin types can also benefit from an eye cream that contains soothing ingredients. Some favorites include niacinamide, which also helps protect skin, as well as green tea leaf extract, aloe extract, licorice extract, and chamomile extract. Many of these skin-soothers can also help with other concerns like dark circles and puffiness.
Ahead, you'll find five of the best eye creams for sensitive skin — whether you're simply looking for a bit of hydration or you're trying to depuff and brighten after pulling an all-nighter.