These Hydrating Eye Creams With Hyaluronic Acid Are The Perfect Antidote To Dry, Tired Eyes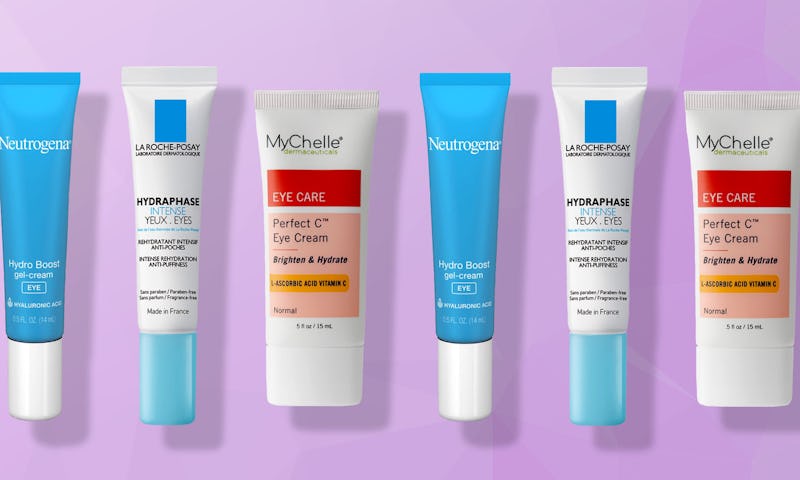 Amazon/Bustle
Because the skin under and around your eyes is thinner than the rest of your face, it's much more susceptible to dehydration. A dry or dehydrated eye contour area can present itself in a variety of ways, but one of the easiest ways to keep it healthy is to ensure it's hydrated. This is where the best eye creams with hyaluronic acid come in; like most eye-oriented beauty products, they help keep the area looking firm and plump, but they also take things up a notch in terms of hydration by using one of the most powerful hydrating ingredients on the planet.
Ahead, you'll find five great eye creams that all contain the miracle ingredient hyaluronic acid. But how to know which one is right for you? For some, creams can actually make their under-eye area puffy; if that's the case, then reach for Neutrogena's Hydro Boost Gel Cream, which has a lighter-weight gel consistency. If you swear by products that come out of the French pharmacy, there's a great option by La Roche-Posay. Or, if you love trying innovations from lesser-known Asian brands, consider Hada Labo's eye cream — straight from Tokyo, by way of Amazon.
And here's a hot tip. While many of you probably apply eye cream as a part of your evening routine, it's actually better to apply it in the morning, since eye cream can trickle into your eyes while you sleep, causing redness and puffiness. Not only will morning application allow your eye cream to work its magic all day long, but it will also help your concealer blend better and go on more smoothly.
So without further ado: here are five of the best eye creams with hyaluronic acid.