Consider This Your Ultimate Guide To The Absolute Best Moisturizers For Dry Skin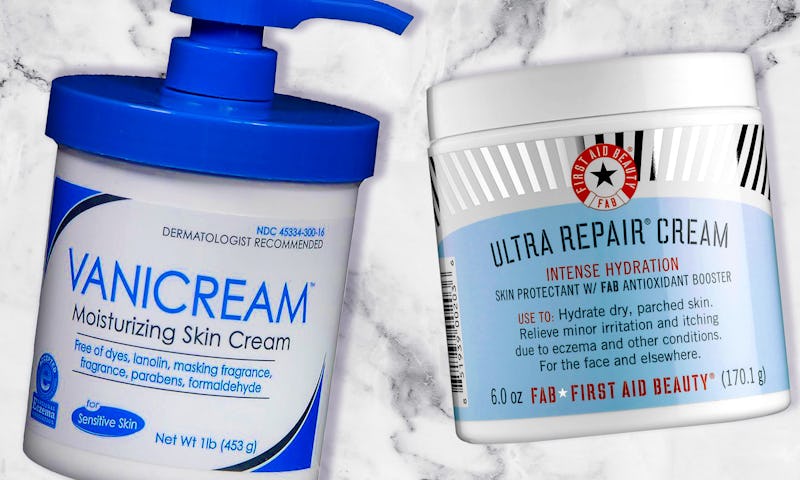 Amazon/Bustle
While not medically concerning, dry skin can be annoying to deal with and often requires extra diligence to your skin care regimen. To treat it correctly, it's important to use one of the best face moisturizers for dry skin on a daily basis. Your skin will thank you.
To find the best moisturizer for your skin type, start with your level of dryness. Many people only get dry skin in the fall and winter months caused by colder outside temperatures and dry indoor air from central heat, whereas others have chronically dry skin year-round that tends to be more severe. If this is the case, or if flakiness, irritation, or redness accompanies the dryness, you'll want to opt for a thicker cream that offers more hydration. Look for ingredients that absorb moisture into the skin, like hyaluronic acid, glycerin, and shea butter, or soothing agents like allantoin, which is also a good choice for treating eczema.
It's also a good idea to choose a moisturizer with SPF in it for daily sun protection — yes, even in the winter, and even if you spend most of your time indoors. If you do pick a moisturizer without SPF in it, make sure you're layering on some form of sun protection before you head out for the day.
Of course, dry skin isn't an across-the-board thing. If you have combination skin — skin that's dry in some parts and oily in others — you might want to try a lightweight, oil-free option. If you're prone to acne, non-comedogenic formulas are the way to go (that means they won't clog pores), and if you have sensitive skin, choose something that's hypoallergenic and made without dyes or fragrances to avoid irritation.
To find out the five best moisturizers for all types of dry skin, scroll on.