Shine Bright Like A Diamond With These 5 Gorgeous Face Oils For Glowing Skin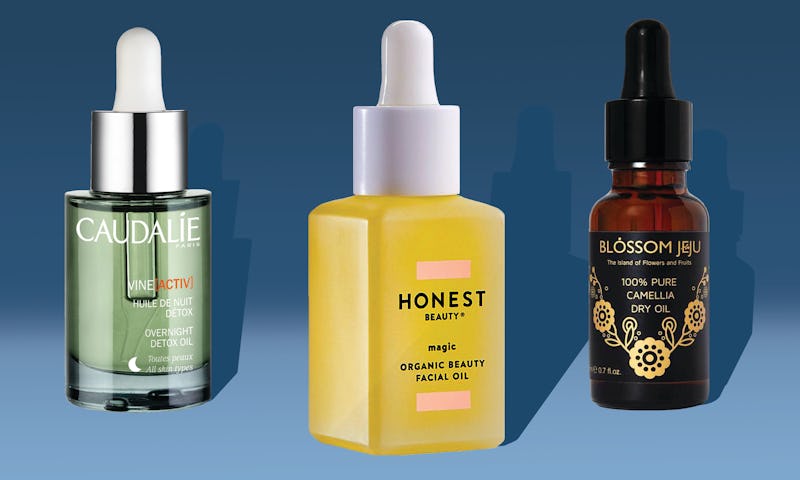 Amazon/Bustle
We only recommend products we love and that we think you will, too. We may receive a portion of sales from products purchased from this article, which was written by our Commerce team.
Contrary to what their name might suggest, face oils should leave skin glowing, not greasy. These typically tiny bottles house concentrated levels of vitamins, antioxidants, and omega fatty acids that work to nourish and protect skin from things like environmental damage and pollution, leaving you with a luminous complexion. But the secret to finding the best face oil for glowing skin doesn't necessarily come down to one glow-giving ingredient. Instead, it's finding ingredients to counteract what could be preventing you from your brightest complexion in the first place.
Oils like jojoba, avocado, and sweet almond help to moisturize dry and dehydrated skin, while oils like rose hip, camellia, and apricot kernel have anti-inflammatory properties that can help reduce redness and even out skin tone. You may also want to look for an oil with detoxifying ingredients, like carrot oil and algae extract, to combat the effects of toxins (think sallow, tired looking skin).
No matter which oil you choose, the the proper application method remains the same. Whether you're applying your face oil in the morning or at night, always make sure your skin has been properly cleansed. Since face oils act like a barrier on your skin, anything you apply after a face oil won't be properly absorbed. That means you should put your sunscreen on first in the morning, and at night, apply your toner and serum beforehand. Depending on your preference, you can mix a few drops of your face oil into your nightly moisturizer, or, apply your moisturizer first and seal everything in with your oil on top.
Again, since the ingredients in a face oil are super concentrated, you don't need be slathering your face with it. Two to three drops should do the trick, and patting the oil onto your skin (as opposed to rubbing it in) will help your skin absorb it more easily. To really boost your glow during the day, try mixing your face oil in with your foundation for an extra hit of hydration that will leave your skin looking dewy and refreshed.
To help get you started, here are some of the best face oils for glowing skin, no matter your skin type, budget, or primary concern.