These Face Wipes For Oily Skin Can Help Keep Breakouts & Clogged Pores At Bay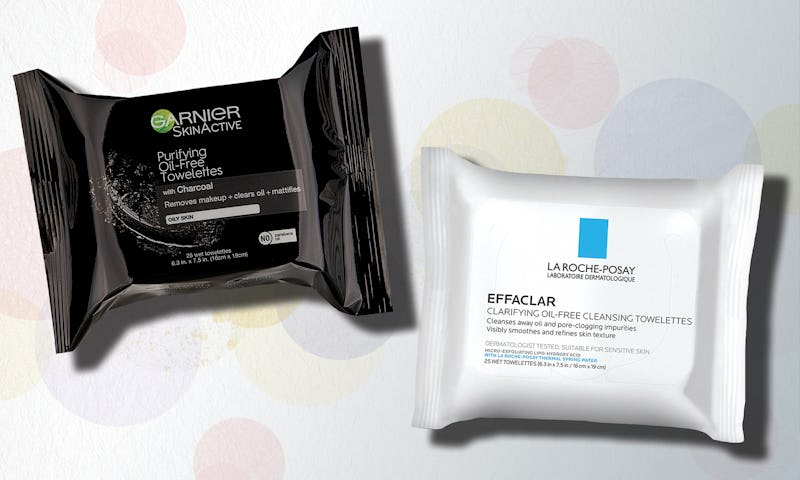 Amazon/Bustle
In a perfect world you'd be home and double cleansing by 9:00 p.m. (or maybe that's just me). But sometimes you find yourself running from work to the gym or to drinks with friends. Those are the days when face wipes are your saving grace. But just as you choose a cleanser for your skin type, you should be doing the same with on-the-go towelettes. Because each cleansing cloth is formulated with different ingredients, it makes sense that skin that's on the greasy side will want to choose one of the best face wipes for oily skin.
To ensure you've found your perfect match, the most important thing you'll want to look for is a facial wipe that's oil-free. Ingredients that work to absorb excess oil and constrict pores, like charcoal and willow bark extract, are great because they'll help keep your skin looking matte for longer. Because oily skin tends to be acne-prone, you may also benefit from an active ingredient like salicylic acid. The BHA is particularly suited for oily skin because it's able to cut through the sebum to unclog pores without being overly irritating.
Still, these oil and acne-fighting ingredients can be drying, so don't forget to choose a face wipe with a gentle hydrator to restore moisture (drying out skin just leads to more oil production). Ingredients like hyaluronic acid and aloe help draw moisture to the skin and keep it soothed. You also shouldn't be solely relying on face wipes to get your skin clean. While this is true for all skin types, it's especially true for oily and acne-prone skin because you need to ensure you're thoroughly removing makeup and clearing out dirt and bacteria from your pores to keep your skin clear.
When you're in a pinch or on-the-go, here are five of the best face wipes for oily skin to help get you started.