Slice Through Fish & Meat With Ease With These High Quality Fillet Knives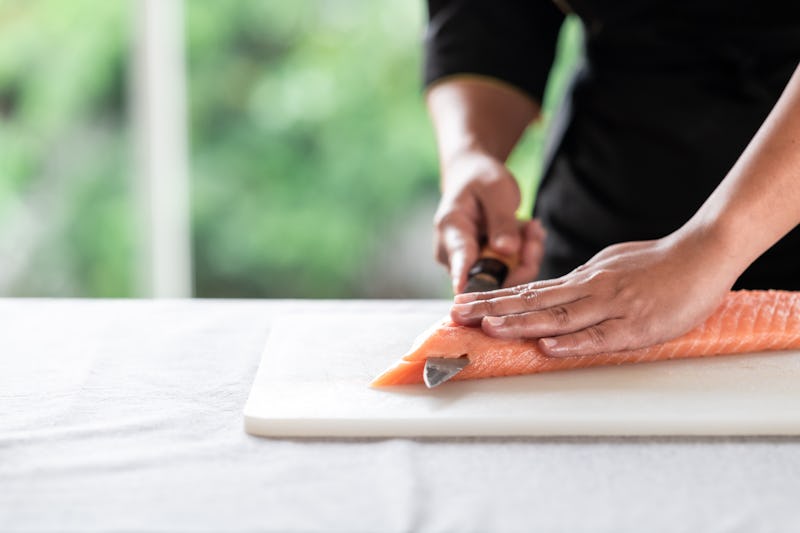 Shutterstock
Fillet knives are designed to remove bones and skin from more tender meat like fish or chicken, although some can handle thicker meats. No matter what you're prepping in the kitchen, the best fillet knife will be made of high carbon steel or high carbon stainless steel. With that said, some chefs prefer other materials for being less maintenance. Here are a few details to keep in mind when shopping to find the best knife for your kitchen needs.
Blades
The blade on a fillet knife can be as small as 4 inches or as long as 9 inches; a blade that falls somewhere in the middle is appropriate for most uses, though a smaller knife is more delicate and precise for smaller fish. All fillet knives are more flexible than your standard chef's knife or boning knife, with a thinner blade which allows for exact cutting and skinning on tender meat; blades on smaller fillet knives tend to be even more flexible. A semi-stiff blade may be preferred if you're also using your knife to work with tougher cuts of meat. Some fillet knives curve upward, which is helpful for remaining steady while making longer cuts.
Materials
A stainless steel blade is most common for its durability and being easy to sharpen, though for the sharpest edge, look for a carbon steel blade. Professional chefs love carbon steel for being razor sharp for precision cutting. It should be noted, however, that carbon steel requires careful cleaning to avoid rust. A high carbon stainless steel blade offers the best of both worlds. This hybrid material is extremely durable and maintains its sharpness, but is also better at resisting stains than carbon steel.
With all this in mind, below are the best fillet knives to add to your knife collection. They're all highly rated on Amazon, and some picks are even NSF-certified, meaning the product has been made to the strict public health standards of an independent organization.
We only recommend products we love and that we think you will, too. We may receive a portion of sales from products purchased from this article, which was written by our Commerce team.