If You Have Dry Hair, There Are Flat Irons That Actually Benefit You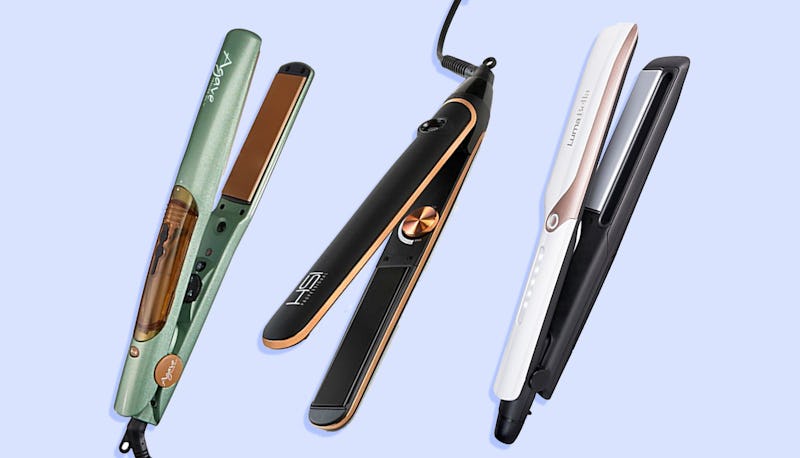 Bustle / Amazon
If your hair is dry, you may find that using a flat iron leaves your hair dull, damaged, and even dryer than it was before. But it's possible that upgrading your straightener could be the secret to healthier-looking hair. The best flat irons for dry hair don't just straighten and smooth but actually moisturize and boost shine.
Dry hair tends to be more fragile and more susceptible to damage than oilier hair-types, and since the hair on our head is dead, that damage is not always possible to reverse. This means it's important to choose a flat iron that won't damage your hair.
It's pretty clear that applying sealants before you apply heat is crucial to prevent the hair from frying, but thanks to modern technology you can take it a step further by picking up a flat iron that has a moisturizing steam function to infuse nourishing oils into your hair.
Also, if your hair is dry, it's even more important to maintain a safe level of heat while using hot tools. Go to high and you hair will fry; go to low and your hair may look dull. Many say, the ideal temperature to straighten hair is 365 degrees Fahrenheit. This temperature should prevent moisture loss in the cuticle, leave you hair shiny, and make the most each straightening-stroke. Ultimately however, different thickness' and textures will respond differently to temperature, so clearly, multiple heat settings are going to be a must-have for a dry head of hair. But that's not all — folks with dry hair will definitely want to take advantage of flat irons that use ceramic plates and ionic technology to evenly spread heat and avoid more damage.
These are some of the highest-rated and safest flat irons for dry hair: