Everything You Need To Remove Your Gel Manicure At Home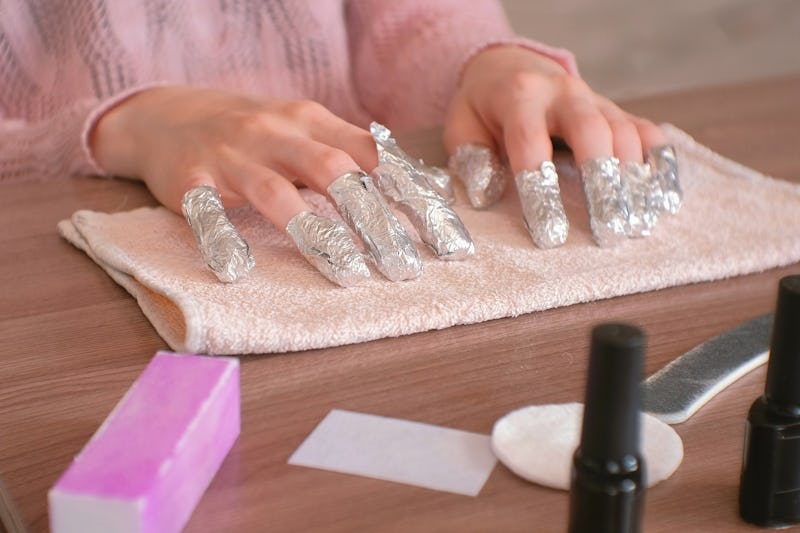 Shutterstock
Many of the reasons why gel manicures are so fantastic — they're long-lasting, shiny, protective, and scratch-free — are the exact same reasons they're hard to remove. And, if you're away from the salon? It becomes that much more difficult. Luckily, the best gel polish removers make quick work of removing a professionally-applied gel mani or pedi from the comfort of your own home. In order to maintain the structural health of your nails, using the right ingredients and taking the correct amount of time is really important.
Unfortunately, a regular nail polish remover isn't going to cut it. Because gel manicures are applied in layers and cured under UV or LED lamps, the polish won't just rub off in one quick go.
Rule number one: Do. Not. Peel. I repeat, do not peel. I'm basically the queen of fiddling with my nails, so I completely understand the temptation. But you must resist because peeling off gel manis and pedis can really mess with your nail beds and surfaces (think: long-lasting scratches...no thanks). Rule number two: Hydrate. Cuticle oil and moisture-rich creams are your best friend when you're doing a gel removal process because those harsh chemicals can be pretty dehydrating.
But, sit back and relax. If you can't get to the salon, here are the best gel nail polish removers you can use at home. Everything you need is gathered up below.
We only recommend products we love and that we think you will, too. We may receive a portion of sales from products purchased from this article, which was written by our Commerce team.
This article was originally published on