These Lightweight Oils Are A Game-Changer For Anyone With Thin, Dry Hair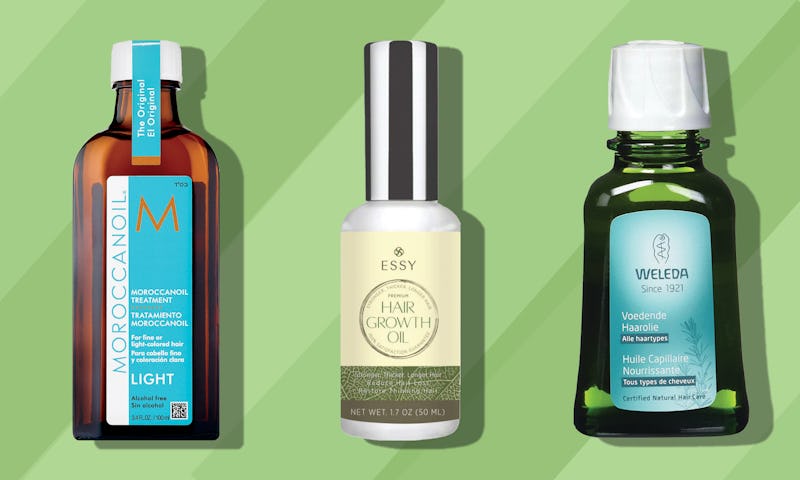 Amazon/Bustle
Hair can feel thin for a lot of reasons. Sometimes, it's just a matter of genetics. For those who experience thinning later on in life, breakage or hair loss are also prime culprits. Hair oil is a great moisturizer — minimizing split ends while amping up the shine — but the wrong one can make fine hair look flat or oily. And while some are heavy and best suited to those with coarse hair, the best hair oils for thin hair can offer tons of conditioning benefits without weighing strands down.
While some products on the market tout their "thickening" abilities, Maryanne Makredes Senna, MD, a dermatologist and co-director of Massachusetts General Hospital's alopecia clinic, warns that few have been proven effective at actually regrowing hair or slowing hair loss — including long-touted biotin. "Thickening shampoos and other products claim all sorts of things but actually have no proven benefit for people with hair loss," she says.
Few topical ingredients beyond minoxidil, the active ingredient in Rogaine, have been shown to regrow hair, according to Dr. Senna. However, there are hair oils that can help give you the look of more fullness and even potentially maintain your hair.
Sensitive scalps should be careful not to cause inflammation which "can worsen hair loss or trigger hair loss in some patients," Dr. Senna says. If you've experienced itching or burning, check your products for fragrance and propylene glycol, and avoid those. And "if your hair loss is patchy or you get big pimples or sores in your scalp," says Dr. John Zampella, an assistant professor of dermatology at NYU, it's a good time to consult a doctor.
Below are some of the best in nearly weightless oils for thin hair, all promising to give a beautiful sheen without weighing down your strands or looking greasy.