Looking For An Alternative To Headphones? These Options Are Portable, Ergonomic, & Noise Cancelling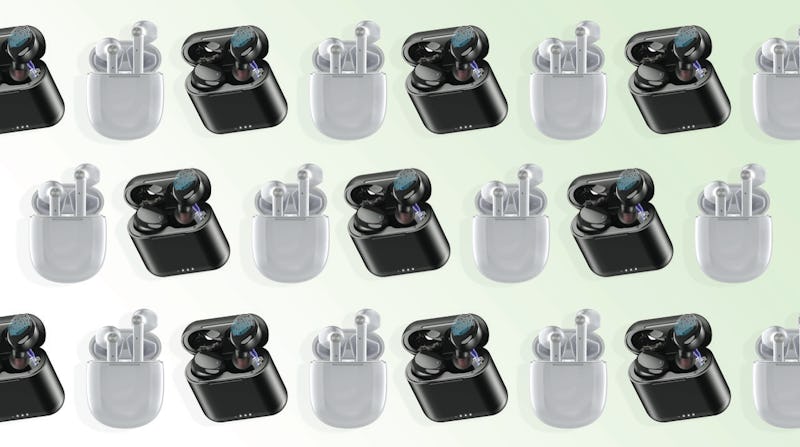 Amazon/Bustle
While DJ-style headphones offer padded comfort, the best headphones alternatives fit comfortably in or over the ears, sound great, and are much less bulky than traditional headphones, so they're easier to stash in your bag or pocket. When shopping, you'll have a few options:
Earbuds: The most common alternative to traditional headphones, these fit inside the ears and generally boast a low profile. They're the most portable option, but you'll have to decide whether you want wireless earbuds or wired earbuds. With wireless Bluetooth earbuds, you'll have to remember to charge them, but they do away with the annoyance of tangled cords, and many of them come with charging cases, so you get a little extra juice before having to plug into the wall again. Wired earbuds, on the other hand, are the cheapest option and don't need to be charged.
Neckband headphones: These wrap around the neck and hook over the ears, and they tend to offer superior noise cancellation for the price compared to earbuds.
Headbands: Soft and stretchy, these feature thin wireless speakers sewn into the sides and they're a great option if you're looking for something comfortable enough to sleep in.
And if you're planning to use these while exercising, you might want to spend a few extra bucks for water-resistance so you can sweat it out at the gym or run in the rain without risking damage.
Whichever style is right for you, these are the best headphones alternatives on Amazon that are comfy and wallet-friendly whether you're listening to podcasts, music, or an audiobook.
We only recommend products we love and that we think you will, too. We may receive a portion of sales from products purchased from this article, which was written by our Commerce team.