If You Heat-Style Your Hair, Make Sure You're Not Skipping Out On This Key Step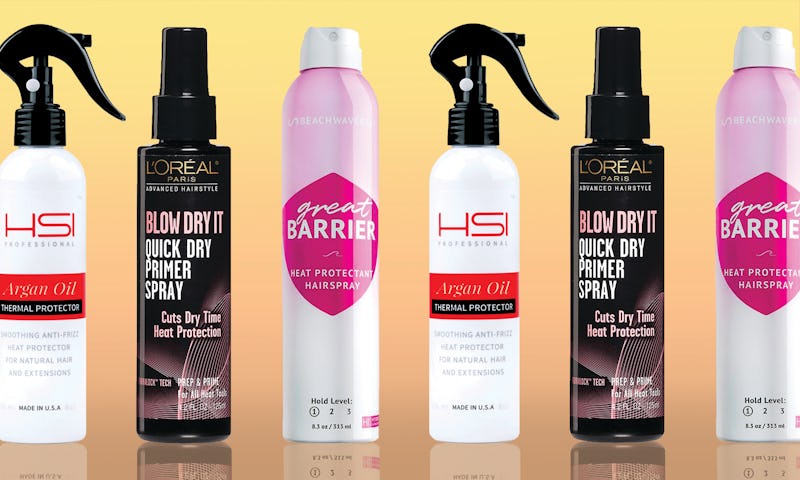 Bustle/Amazon
If you're someone who regularly heat styles your hair, you're probably already familiar with the potential damage it can cause. But saying no to hot tools — be it blow dryers, curling irons, or straighteners — isn't always realistic, hence, the importance of properly protecting your hair with some type of shielding product. But with all the different formulas out there, narrowing down the best heat protectants for hair can be tricky — which is where this handy guide comes in.
To get the lowdown on all things heat protectants, I got in touch with colorist Lucille Javier of Sally Hershberger salon at Hudson Yards in New York City. Javier says that any hair type can benefit from using a heat protectant, but notes that they're "especially great for hair types that are chemically-treated." (Chemically-treated hair tends to be more brittle, so it needs all the extra protecting it can get.) According to Javier, when shopping for a heat protectant, the key terms to look out for are "smoothers, strengtheners, and UV protectants," which will help prevent and counteract the worst side effects of heat styling.
As for how to use a heat protectant properly? Typically, you'll want to apply the product on damp hair before styling, though some products can also be applied on dry hair — it really depends on the formula. As usual, just be sure to the instructions first.
Scroll on to discover five of the best heat protectants to use for healthier hair.