The Surprising Reason Your Skin Might Be Itchy — And What Product To Use That Can Help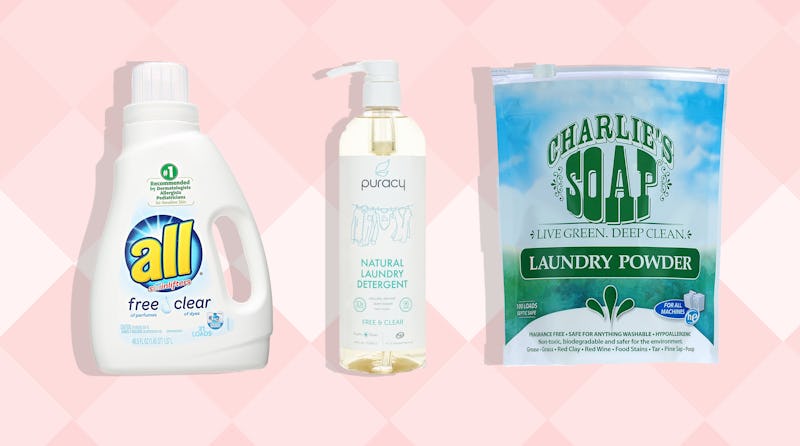 Bustle/Amazon
If you have sensitive skin, allergies, or simply get red and irritated from time to time, your clothes could be exacerbating the situation. A great number of laundry detergents are filled with sensitizing ingredients and even harsh chemicals. But the best hypoallergenic laundry detergents are free and clear of any and all irritants — and there is more diversity in this growing detergent category than you might suspect.
The National Eczema Association provides a lengthy list of the most common ingredients to avoid when choosing products that are safe for sensitive skin — benzoyl peroxide, ethanol, and lactic acid, to name a few — and there are quite a few that you'll (unfortunately) find lurking in many laundry detergents.
A quality hypoallergenic laundry detergent will, ideally, be free of masking fragrances and perfumes, dyes, and sulfates. The good news (I promise there's a bright side here) is that many laundry detergent brands are hip to the dangers found in detergents and have created the best detergents that are both hypoallergenic and effective at removing stains and odors.
In this roundup of the best hypoallergenic laundry detergents you'll find the best liquid, powder, and pod detergents that are all free and clear of toxins and common irritants so you can breathe easier the next time you do a load of laundry.