A Cleaner & Cuter Kitchen Is Yours With These Durable Kitchen Towels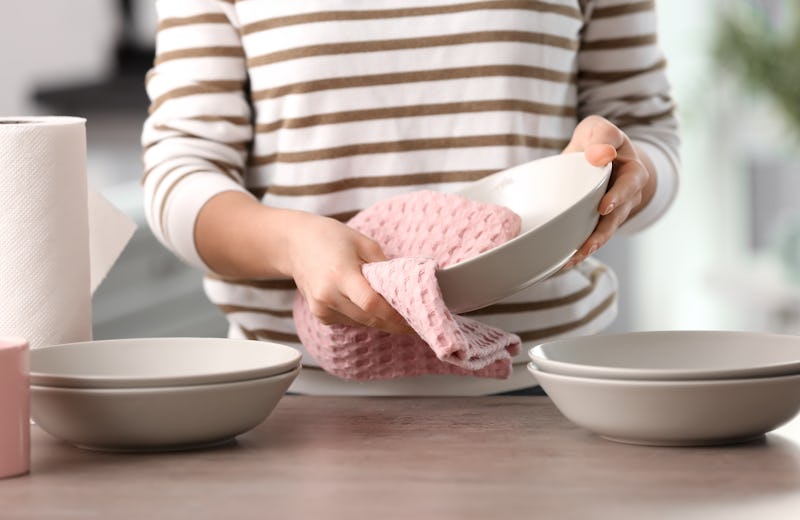 Shutterstock
For cleaning up messes or wiping dishes clean, the best kitchen towels are absorbent, durable enough for the task at hand, and fit your price point. Choosing the right material and size will help you find a set of towels that makes keeping the kitchen clean a cinch.
Materials
Cotton is absorbent and durable, making it a popular choice for kitchen towels intended for cleaning up messes and counters. Specific construction like ring spun cotton that combine short and long fibers create an even more durable fabric. The looping of terry cloth, which is most commonly made from cotton, increases the towel's surface area and absorbency as a result; however, some may prefer a towel that isn't as soft for cleaning up tougher messes. This may be the case if you're using a kitchen towel to dry dishes; for this task, be sure to choose a lint-free towel, which typically has a tight and/or textured weave. Terry cloth towels usually require a few washes before they are free of lint.
Microfiber is typically made of synthetic materials and not as versatile as cotton; unlike cotton towels, microfiber can't be folded to stand in as a pot holder because it may melt, and after washing they can feel unpleasantly static-like to some. With that said, microfiber towels are highly absorbent and many prefer them to cotton.
Size & Features
A kitchen towel should be big enough to handle a decent-sized mess or load of dishes, and that's usually around 20 by 30 inches, though you may find slightly smaller towels are a better fit for your space. Most kitchen towels are simple in appearance, but you may like a few more decorative towels for display. A hanging loop is a nice bonus feature if you might like to hang your towels on hooks.
With all this in mind, below are the best kitchen towels. Since you use them everyday, nothing compares to a quality kitchen towel for keeping your kitchen in order.
We only recommend products we love and that we think you will, too. We may receive a portion of sales from products purchased from this article, which was written by our Commerce team.