If You Have Sensitive Skin, You'll Love These Gentle Makeup Removers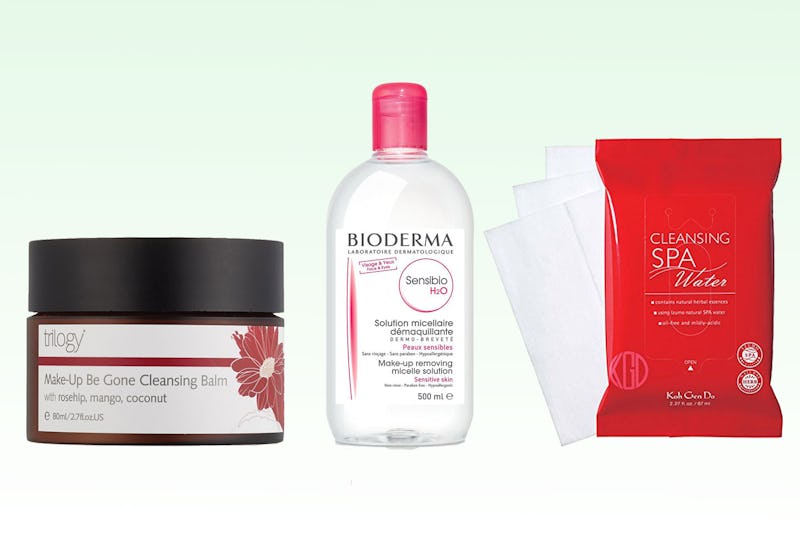 Amazon/Bustle
There's no better feeling than removing your makeup after a long day. There's also no worse feeling than attempting to remove your makeup only to realize it's all over your face or that your skin is now dry and irritated. With the best makeup removers for sensitive skin, listed below, you can kiss these two common problems good-bye, as they remove even the most stubborn foundation and waterproof mascara — without irritating your skin in the process.
But first, what exactly is makeup remover, and how does it differ from face wash or cleanser? Well, as the name suggests, makeup removers are simply meant to remove makeup. Face washes and cleansers, on the other hand, are designed to remove excess sebum and built-up impurities on your skin. The good news is, you can use both in your daily skincare routine. In fact, if you regularly wear makeup, or if you have particularly sensitive or acne-prone skin, double cleansing (removing your makeup with a makeup remover first, then following it up with a cleanser) will keep your skin healthy and blemish-free. Some makeup removers, however do both jobs in one.
Below you'll find a list of the five best makeup removers for sensitive skin. Each choice represents a different type of makeup remover (including a cleansing oil, micellar water, and wipes), but all are made without harsh, drying ingredients, so they are safe enough to use on complexions that are easily prone to irritation.