What To Look For In A Toothbrush, According To A Dentist — & 5 Of The Best Ones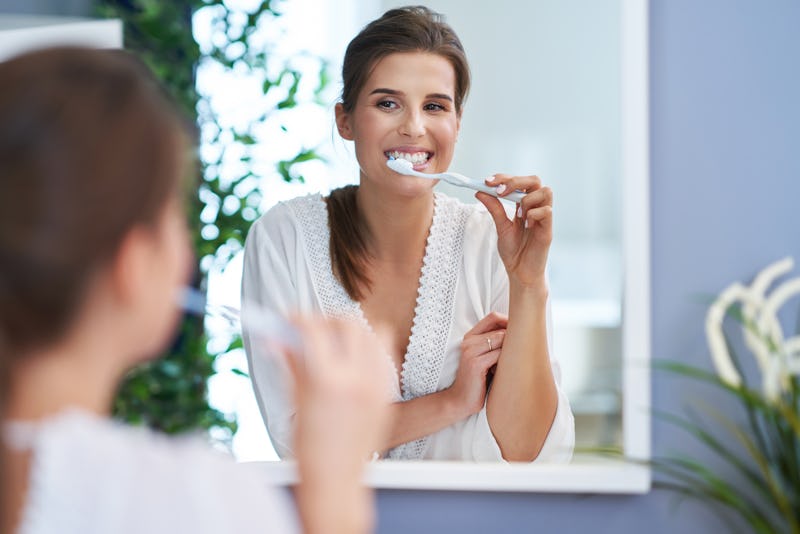 Kamil Macniak / Shutterstock
When it comes to brushing your teeth and removing the masses of potentially cavity-causing bacteria known as plaque, there are two main types tools to choose from: a manual toothbrush or an electric one. While an electric toothbrush moves faster than your hand ever could, Dr. Tyrone Rodriguez, a board-certified pediatric dentist and American Dental Association spokesperson, tells Bustle that there are many advantages to having one of the best manual toothbrushes, like the ability to more easily focus on certain areas of the mouth or be delicate if you're concerned about sensitive gums ⁠— plus, you can brush at a pace that you set and never run out of power, he says.
To find the best fit for you, Dr. Rodriguez recommends choosing what feels comfiest. "Manual brushes are designed differently for different purposes. You have to use the brush that's comfortable and that you know you're going to utilize," he explained in an interview with Bustle.
When it comes to picking a manual toothbrush, he recommends thinking about the following features:
Comfortable handle: Make sure that the toothbrush is designed in a way that is easy for you (or your child) to hold. Some handles feature a nonslip thumb grip to give you better control of the brush, while other handles are longer to make it easier to reach the back of your mouth.
Extra soft or soft bristles: "The firmer the bristles get, the easier it is to damage gums and wear away the enamel," says Dr. Rodriguez. This is why he suggests selecting a manual toothbrush with extra soft or soft bristles, rather than medium or hard bristles.
Shape of the head and bristle arrangement: Multi-level bristles, especially bristles that get longer as you get to the tip of the brush, can make it easier to reach the back of the mouth. Angled bristles can help to cover more tooth surface area.
Head size: For a manual toothbrush, "a toothbrush that covers about two to three teeth at a time is about the right size," says Dr. Rodriguez.
If sustainability is important to you, consider looking for a brush that is made from recycled materials or is recyclable.
To help you find the best manual toothbrush, here are five options that Amazon reviewers love.