5 Relaxing Massage Oils That Won't Irritate Sensitive Skin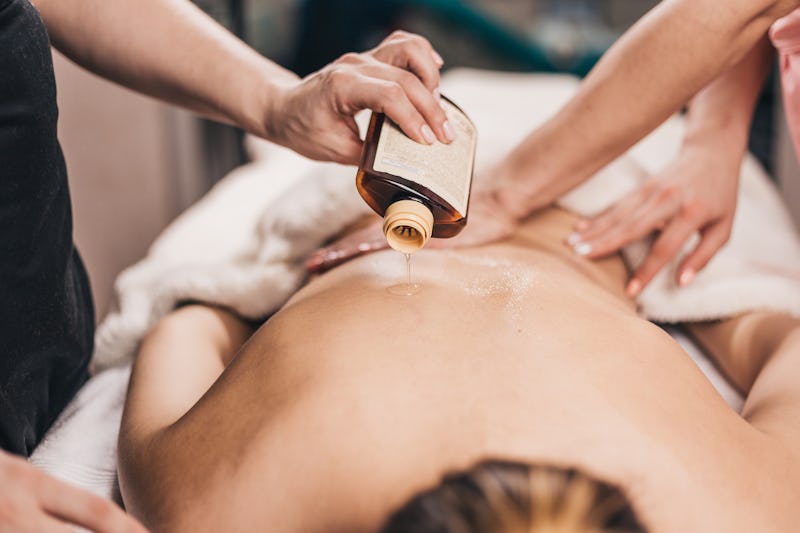 Shutterstock/VanoVasaio
A deep, relaxing massage is one of life's best treats — especially with a luxe oil that makes your muscles melt. But if your skin tends to get irritated easily, you have to be extra careful to find the best massage oils for sensitive skin before you lie on the table.
Heavily scented ingredients tend to be a trigger for delicate skin tissue, so it's important to check the label before you buy. The scent itself isn't necessarily a bad thing, but lots of beauty products and toiletries are made with harsh chemicals and dyes to amp up fragrance, which is a definite no-no for sensitive skin. You'll want to be on the lookout for a gentle massage oil that's made with as many organic and natural ingredients as possible to minimize exposure to skin irritants.
You also want to consider the viscosity, or thickness, of an oil, too. If your pores tend to get clogged up and inflamed easily, look for a high-quality massage oil made from ingredients that glide over the skin without leaving behind a greasy layer. Grape-seed and avocado oils are great choices, and they're also chockfull of skin-nourishing antioxidants.
Let's face it: There are so many massages oils out there, and a lot of them aren't great for your skin. Here's a roundup of some of the best massage oils on the market so you can finally relax knowing your skin is in good hands.
Bustle may receive a portion of sales from products purchased from this article, which was created independently from Bustle's editorial and sales departments.