Treat Your Dry, Chapped Winter Lips With These Powerful Medicated Lip Balms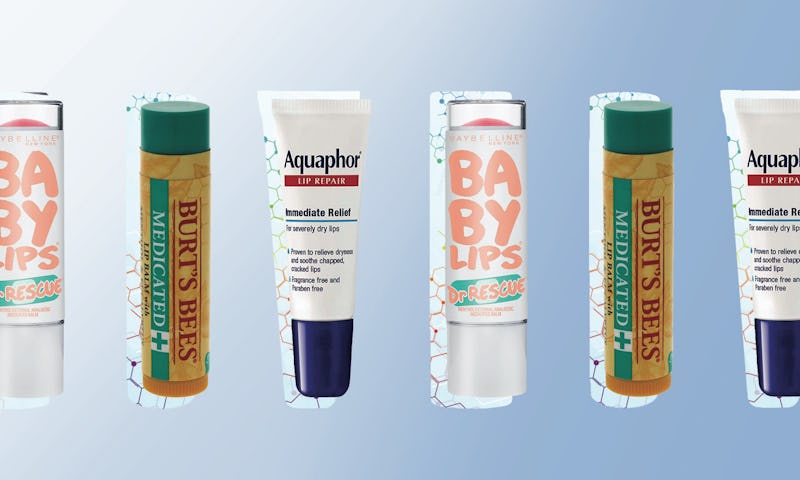 Bustle/Amazon
When have dry, chapped lips and require more than a swipe of gloss, the best medicated lip balms are there to help. Though we tend to blame the weather for our chapped lips — and granted, during winter, a lack of moisture in the air and heat blasting in our homes can dehydrate the sensitive skin on our lips, and in summer, excessive sun can dry them out — there are other causes of chapped lips, including taking certain medications, not drinking enough water, eating spicy foods, and even the ingredients in some of our beloved lip balms and lipsticks.
Though it's easy to believe that a product stings or burns because it's "working," the American Academy of Dermatology (AAD) suggests otherwise. If your lips hurt after applying a product to them, it actually means it's irritating your mouth, so you'll want to stop using that item. In general, the AAD says that certain ingredients, including camphor, some flavors and fragrances, menthol, and salicylic acid can irritate lips, while the least irritating, most soothing medicated lip balms are the ones that are fragrance-free and hypoallergenic, and contain healing ingredients such as castor seed oil, ceramides, shea butter, sun-protective ingredients (such as titanium oxide or zinc oxide), and white petroleum jelly.
If you're struggling with lips that are peeling or dry, below are the six best medicated lip balms available on Amazon that will give you relief and make your lips feel soft and smooth again — fast!