These Are The Best Moisturizers For People With Combination Skin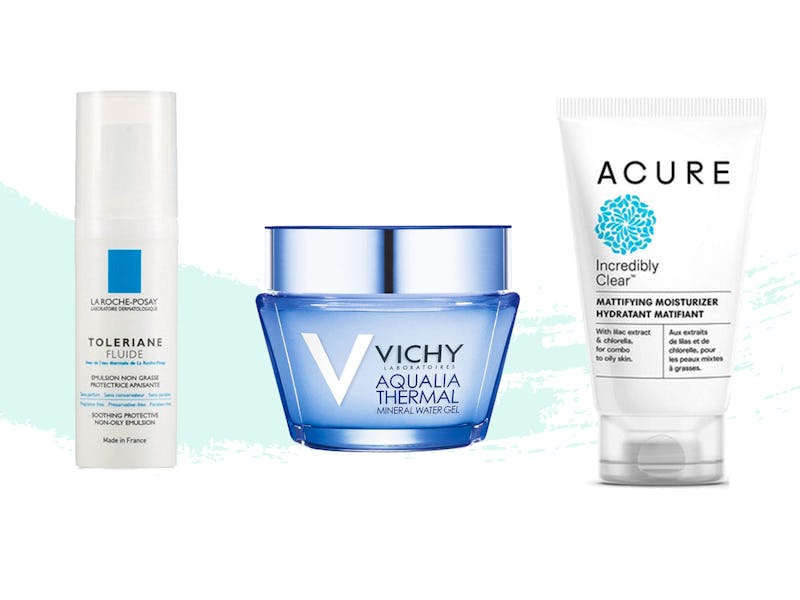 Amazon/Bustle
Finding your ideal skincare routine is not easy and, unfortunately, having combination skin only makes things more complicated. Choosing the best moisturizers for combination skin means having to consider two entirely different skin types: oily and dry. On one hand, you want to ease the excess oil and sebum production in your T-zone, which can lead to blackheads, breakouts and an overall shiny appearance, and on the other, you want to moisturize and brighten the dry, dull skin on your cheeks. Is it possible to do both at the same time without buying double the products or making things worse? The answer is yes, and it's all about balance.
First of all, keep in mind that with combination skin, lightweight, gentle products are the way to go. To keep your entire face happy, avoid harsh exfoliants, acids, and acne treatments as well as any heavy moisturizers that may clog pores. Instead, if your combination skin feels dry or dehydrated, try a lightweight gel formula with a heavy-hitting hydrator like hyaluronic acid. To exfoliate and clear acne on combination skin, skip the benzoyl peroxide and alcohol and try something that contains antioxidants like vitamin C, or gentle BHAs and AHAs. Finally, to control sebum production and keep oily skin looking matte, look for ingredients like dimethicone, glycolic acid, and clay.
Although there's no one-size-fits-all product for combination skin, the five moisturizers below will make your skin brighter, softer, and smoother while reducing oil and eliminating pesky breakouts.