If You Have Sensitive Skin, These Are The Best Moisturizers To Use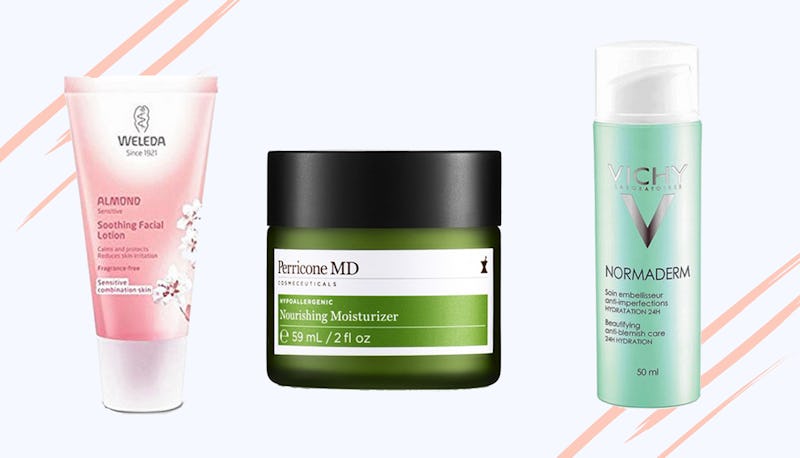 Amazon/Bustle
If you're someone who classifies their skin as sensitive, there's something you should know: You're not alone. Millions of people have skin that reacts adversely to products or external factors like the sun and cold with not-so-fun symptoms like redness, drying, and acne. The best moisturizers for sensitive skin are your saving grace — gentle, lightweight creams that provide deep hydration and keep skin healthy and smooth without causing any unwanted side effects.
There are a few general guidelines to keep in mind when looking for a suitable everyday moisturizer for your sensitive skin. First, there are a few ingredients you should avoid if you can, like alcohol, fragrance, colorants, and preservatives — anything that might provoke irritation. Also, to keep pimples at bay, look for formulas that are hypoallergenic, non-comedogenic, and oil-free. Alternatively, there are certain ingredients you should look for that won't cause or worsen any unwanted issues. To properly hydrate sensitive skin, look for gentle emollients like glycerin, ceramides, and thermal water, as well as natural additives like almond oil and shea butter. Lastly, to protect your skin from future reactions and to keep you skin soft and smooth for longer, look for formulas with antioxidants or SPF.
To keep your sensitive skin healthy, hydrated, and reaction-free, try one of the five gentle moisturizers listed below.