Your Ultimate Guide To The Best Moisturizing Night Creams You Can Buy On Amazon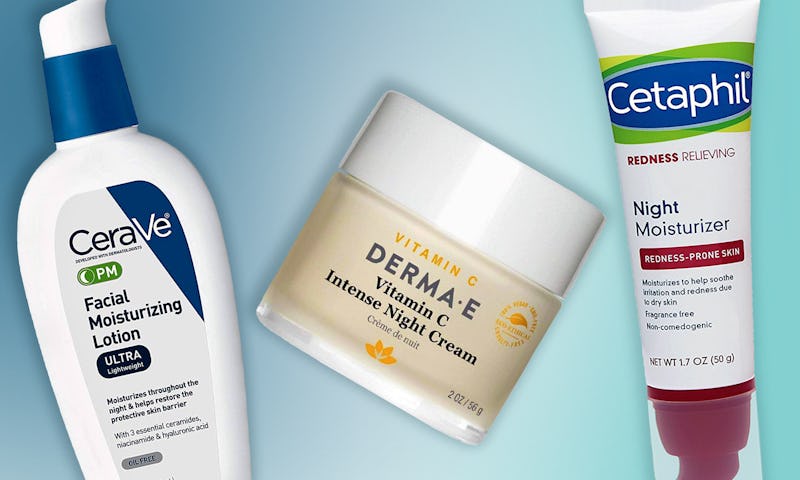 Bustle/Amazon
The dreaming hours: a time for rest, relaxation, and skin repair. If you're like me, your nighttime skin care routine is very important, and making sure you cap off all your serums, essences, and spot treatments with one of the best moisturizing night creams is the perfect way to ensure that you're sealing in all those helpful ingredients with an A+ hydrator.
When looking for a nighttime moisturizer, you'll want to keep an eye out for a formula that's rich enough to actually help with dryness, but not too thick, or it could potentially increase oiliness, clog your pores, or cause general inflammation to acne and/or other skin conditions. Different skin types have different needs, so while all of these night creams are good at their main job — moisturizing — there are formulas specifically made for sensitive, dry, oily, and acne-prone complexions (all of which you'll find clearly outlined, below).
Additionally, four of the five products on this list are under $15 because, unlike serums, with their ultra-sophisticated formulas, face creams are pretty straightforward, so you shouldn't have to shell out a paycheck to keep your skin moisturized at night. There's only one prestige option on this list, and that's because I can personally vouch for it being an absolute lifesaver for even the driest skin.
Whether you're plagued with pimples, an oily T-zone, or severe dry patches, read on to find which of the best moisturizing night creams is right for you.