The 5 Best Nail Fungus Treatments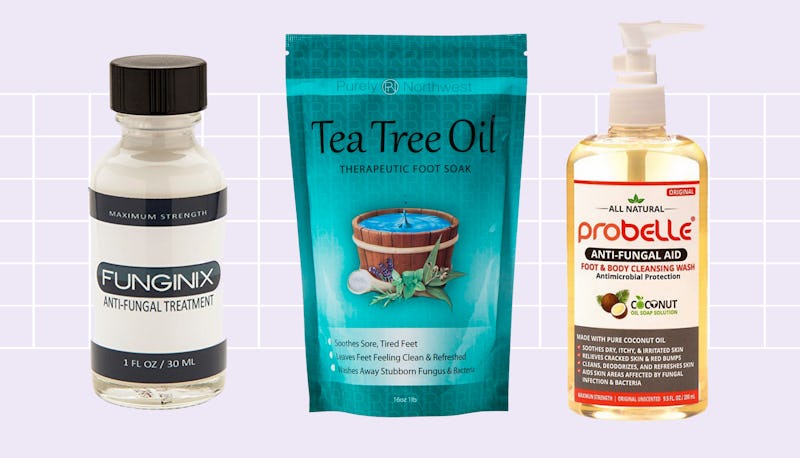 Amazon / Bustle
Once fungus arrives it can be a slow and often invasive process to clear up the infection. The best nail fungus treatments can speed up the healing process and help remove the fungal infection. Since fungus usually shows up as a slight discoloration of the nails, it can fool anyone into believing the altered state of their nails is due to an inferior bottom coat of nail polish.
According to sources at the Mayo Clinic, the real telling sign is that as the infection manifests, the nail thickens and crumbles, spreading to your other nails. Although there are plenty of medical treatments available to stave off the infection, some can take up to a year to work and others are way more invasive than you may be comfortable with. Not to mention, popular oral treatments can be expensive and carry side effects as severe as toxic liver damage.
As with any medical issue, you should always seek the advice of a physician before diagnosing and treating fungal infections. According to Dr. Michael J. Trepal, DPM, Academic Dean and Vice President of Academic Affairs at the New York College of Podiatric Medicine, if the nail is causing pain or growing in thickness, you should seek the help of a qualified physician. "In these cases nail pathology can lead to bacterial infections, ulcerations and quite possibly gangrenous changes."
But, you may still opt for an over-the-counter (OTC) nail fungus treatment once you learn what products work best. Dr. Trepal advises that while there is anecdotal evidence that OTC treatments work, there aren't any definitive scientific, randomized studies that clearly show their efficacy. Starting treatment at the onset of a fungal infection gives folks the best chance at removing the infection for good. As Dr. Trepal explains to me, "The only method that definitely gets rid of [nail fungus] in most if not all patients is to permanently remove the toenail."
Clearly, that's an ideal solution for folks looking to keep their nails. That's why many turn to home treatments that contain natural and synthetic anti-fungal ingredients that fight the infection. In fact, Consumer Reports found that on milder cases of fungal infections prescription topical creams work at a similar rate as popular DIY treatments like tea tree oil which has potent anti-fungal properties.
If you're looking to save your nail and you don't require a prescription, try one of the best nail fungus treatments while you discuss options with your doctor.
This article was originally published on