These Oil-Free Moisturizers Are Just What Your Acne-Prone Skin Needs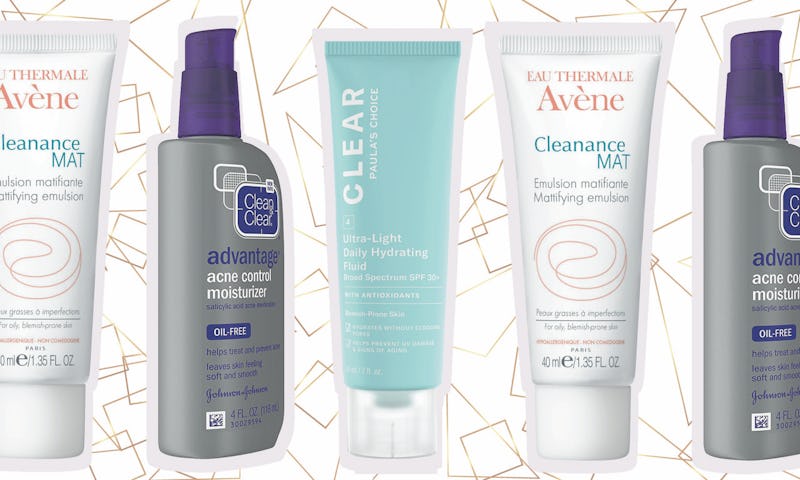 Amazon/Bustle
While not all oily skin types are acne-prone, many acne flare-ups have at least a little bit to do with an over-production of oil. When dead skin cells get trapped in pores along with oil and bacteria, it can cause breakouts. Because of this, if you're acne-prone, it's important to pay attention to the ingredients list of your favorite skin-care products. Finding beauty buys that are oil-free is paramount to keeping your complexion clear, especially when talking about moisturizers. Luckily, the best oil-free moisturizers for acne are easy to find.
Moisturizers, unfortunately, tend to be the biggest culprits of hiding oil in their formulas. It makes sense — if you're not acne-prone, oil can often be an incredible moisturizer. But certain oils can be the kiss of death for folks who break out, which is why it's important to check products' ingredients lists. Even though they may not be the first ingredients listed, they can still be lurking in formulas that you wouldn't expect.
Instead, acne-prone folks want to reach for moisturizers that are lightweight and non-comedogenic. Hyaluronic acid is a particularly great moisturizing ingredient to look out for that poses no risk of clogging your pores. A moisturizer that mattifies skin can also be useful, since it will help control oil production and soak up excess shine.
Ahead, find five of the best oil-free moisturizers for acne-prone skin that you can buy.