These Self-Tanners Will Give You A Summer Glow — Yes, Even If You Have Sensitive Skin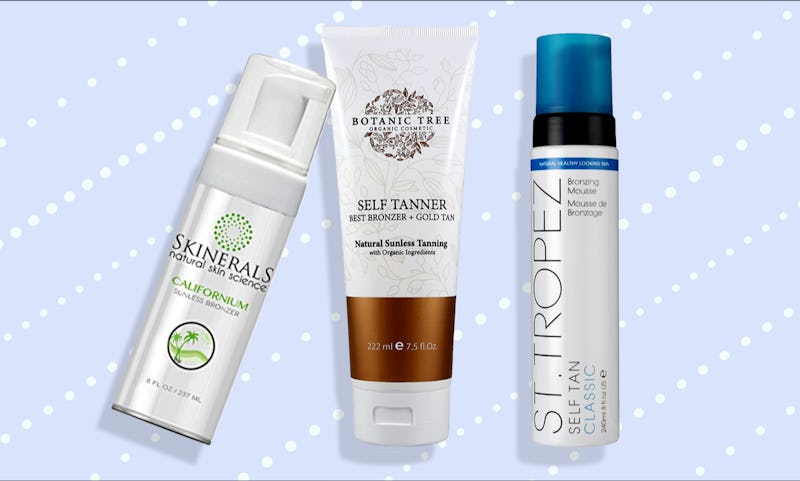 Amazon / Bustle
Let's face it: self-tanner can be one of the tricker beauty products to get right. It can be messy, it can leave you streaky, and if you've got sensitive skin, certain formulas can totally freak your skin out. But if a bronzed bod is what you desire, finding the best self-tanner for sensitive skin is likely your quest.
Lucky for you, the hunt for the perfect sunless tan isn't as difficult as you may think — even if you do have skin that's prone to irritation. You just have to approach your shopping mission the same way you would with any skin care product. It's important to know what, exactly, makes your sensitive skin go haywire. If fragrances are a no-go, there are plenty of fragrance-free formulas on the market. Parabens get you down? Reach for a bottle that's without the preservatives.
There is one extra ingredient in self-tanners to keep an eye out for if you've got sensitive skin: DHA. Short for Dihydroxyaceton, DHA is the active ingredient in self-tanner that actually gives you your golden glow. And while most people have zero reaction to the compound, some folks with sensitive skin may find that they develop dermis issues when it's present in formulas. A patch test is never a bad idea if you're new to the self-tanning game, and it's always a good idea to look out for natural DHA, which may be friendlier to your delicate complexion.
Regardless of what sets your skin off, there is a self-tanning formula out there for you. Ahead, you'll find the best self-tanners for sensitive skin: Bronzed perfection is well within your reach.