5 Potent Serums That Are Perfect For Combination Skin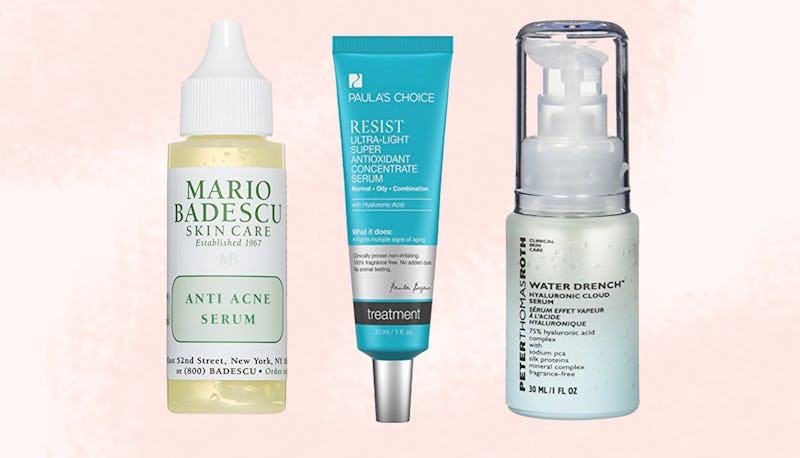 Amazon / Bustle
Supplementing your skin care routine with the right treatment-oriented products for your skin type is tough — especially when you're not sure what your skin needs to begin with. That's why when you try and think of the best serums for combination skin, it feels a little like an oxymoron. How can one serum be the best for skin that's both dry and oily? The truth is, it can't be. It can, however, work in conjunction with your entire routine to keep your combination skin balanced, bright, smooth, and acne-free.
By definition a serum is a highly concentrated, high-performance gel or light lotion that's designed to actively treat your skin and can have a wide range of benefits — anything from clearing acne and unclogging pores, to providing extra hydration, evening out your skin's complexion and repairing sun damage.
For combination skin, where you deal with the folly of both oily and dry skin, a serum is a great way to target and treat your most pertinent skin issues without overdoing it. With a serum you can treat acne without drying out the rest of your skin, add hydration without adding pore-clogging ingredients and heavy moisturizers, and brighten your overall complexion without over-exfoliating. Unlike an acid toner or on the spot blemish treatment, serums are also chock-full of vitamins, nutrients, and active antioxidants that feed your skin instead and make it healthier, stronger, and more radiant. Below are five serums that benefit combination skin. They each work in a different way but all contribute the overall goal: balanced, healthy skin.