If You Have Oily Skin, This Is The One Makeup Step Not To Skip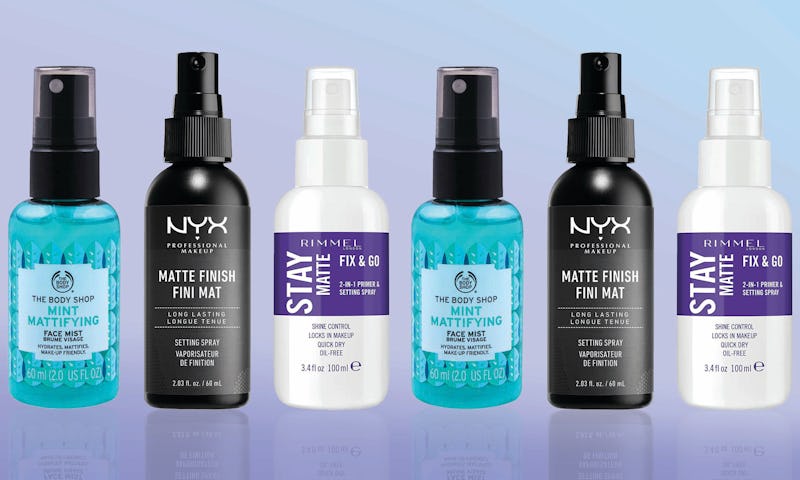 Amazon/Bustle
For oily skin types, makeup setting products aren't just a luxury, they're a necessity. Not only do they keep your makeup from sliding around your face (or worse, from disappearing entirely), but the best setting sprays for oily skin will also help you stay shine-free throughout the day.
It kind of goes without saying, but if you have oily skin, you want to skip the setting sprays that call out moisturizing benefits or a "dewy finish." While they can still include a hydrating and soothing ingredient or two, you want to concentrate on finding a setting spray that offers a matte finish and/or oil control.
To use setting spray correctly — it should always come as the last step in your makeup routine — shake the bottle first and hold it at least 6 inches (or further, depending on the directions) from your face. To make sure you cover your makeup while concentrating on areas where oil shows the most, mist the spray in an X and T motion. Many mattifying sprays are intended to work for up to 16 hours, but if you find you still get greasy by midday, you can prep your skin with a mattifying primer or keep blotting papers on hand.
If you need even more grease prevention, you can combine your setting spray with a setting powder. After applying your foundation and/or concealer, apply a mattifying setting powder using a fluffy brush by tapping off any excess product and pressing it onto the areas of your face that need it most (typically, your T-zone). Once you've finished the rest of your makeup, reinforce it with one of the best setting sprays for oily skin on this list and keep shine from sneaking through for as long as 24 hours.