If You Have A Dry, Itchy Scalp, These Shampoos Are Here To Help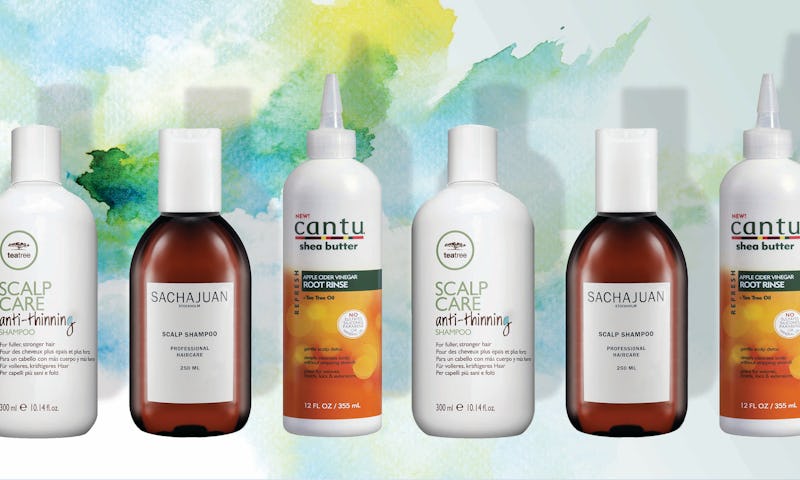 Bustle/Amazon
Whether due to genetics, environmental factors, or wearing leave-in products in your hair, scalp conditions like dryness and flaking are much more common than you think. Luckily, they're also easy to treat once you incorporate one of the best shampoos for a dry scalp into your hair-washing routine. In addition to knowing which ingredients will soothe a dry, itchy scalp, it's also helpful to figure out what's causing the condition in the first place. If the condition worsens or persists, always schedule a visit with your dermatologist.
"Poor diet, using the wrong products, and genetics can all cause dry scalp," hair and scalp expert Philip B tells Bustle. "A dry climate can be a contributing factor, as can indoor heating in the winter because it tends to dry out the moisture in the air," he adds.
To get your scalp back on track, Philip recommends reaching for a treatment shampoo at the first signs of dryness. "Use a treatment shampoo for a dry scalp every two to three days, washing with warm water," he suggests, noting that showering with water that's too hot can further irritate your scalp.
When choosing a formula, Philip says to look for heavy-duty moisturizing ingredients: two of his favorites are aloe vera and African shea butter. He also advises that you be wary of your run-of-the-mill drugstore shampoos. "Those formulations tend to contain a mix of water and detergent with a minute amount of healing ingredients," he explains. "As a result, that can dry out the scalp and throw off its natural moisture balance." That means, if you do plan on picking up a drugstore shampoo, make sure it's specifically formulated to moisturize and soothe dry scalps.
Ahead, find five of the best scalp shampoos that will make dryness and itching a thing of the past.