These Stainless Steel Pots Cook Your Food Faster & They're The Ultimate Kitchen Upgrade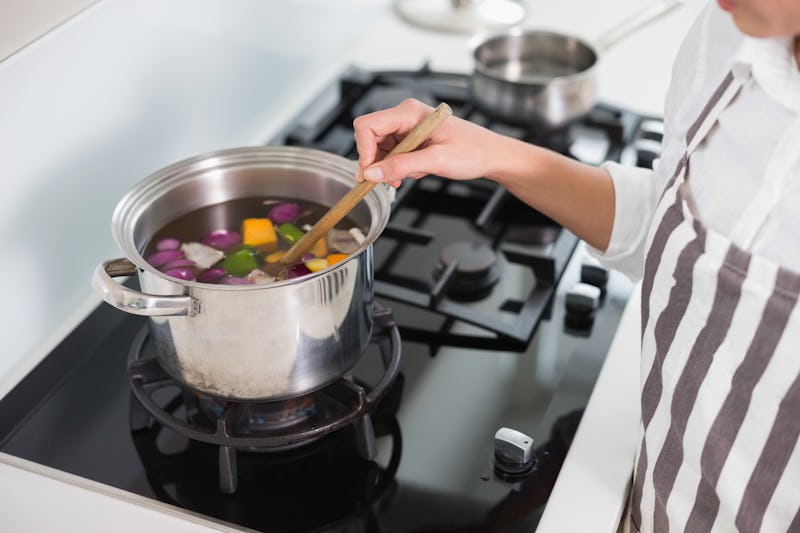 fotolia/lightwavemedia
Investing in one of the best stainless steel pots is an easy upgrade to any kitchen that will deliver a faster and more even-cooking experience. But, there are a lot of subtle differences in the composition of a generic stainless steel pot on the shelf in the kitchenware aisle.
The first thing you'll want to look for is a stainless steel pot with an aluminum core, which conducts heat faster and lessens your cook time. The safest and most efficient pots are also built with two layers of steel sandwiching the layer of aluminum (hence why it is called a "core"), which is often referred to as "tri-ply," and eliminates any risk there might be of cooking with aluminum. A lot of tri-ply pots also feature cool-touch handles since the steel layers keep the hot aluminum sealed off, which come in handy when you use your pot in the oven.
From there, the biggest decision you'll have to make is in regards to size and budget. This may go without saying, but if you have a tiny kitchen, a smaller stainless steel pot will be better, and vice versa with large kitchens. And, if you are looking to really build out your cookware, consider a set of pots of varying sizes.
Here's a list of some of the best stainless steel pots on the market to help get you started.