The 5 Best Tanning Oils For Sun-Worshippers — Just Don't Forget Your SPF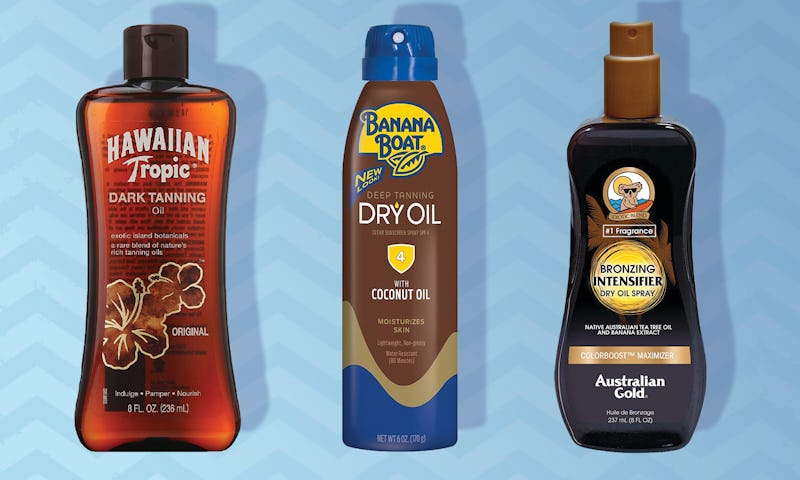 Bustle/Amazon
If you're looking for a tanning oil to enhance your glow, there are a few things you should before you get started. First— and most importantly — according to board-certified dermatologist Dr. Loretta Ciraldo, MD, FAAD, "there isn't really a safe tanning oil," which is why deciphering between the best tanning oils is so tricky.
Dr. Loretta, who was among the first to study the effects of UVA radiation on skin in the dermatology department of Harvard Medical School, knows a thing or two about the sun's skin-damaging effects, and explains, "Tanning oils work by directing more ultraviolet rays into the skin, so that they speed up the amount of tan you get from a single sun exposure." While this means a darker tan, it also means more of a chance of sunburn, especially if you have what Dr. Loretta calls a Fitzpatrick Skin Type 1 or 2 (aka you always burn and don't tan, or you always burn first and then sometimes tan). For those skin types, Dr. Loretta notes, "The tanning oil is not worth the risk of getting a more severe sunburn, which can increase your risk of skin cancer and other unwanted UV-induced problems like hyperpigmentation."
However, if you're set on boosting your glow with a tanning oil, there are a few steps you can take to use one in a slightly less damaging way. As Dr. Loretta explains, "Since a tanning oil accelerates your skin's reaction to the sun, don't use a new tanning oil on your first day at a new location, like a vacation to an island resort, since you may very well end up with a severe burn." Instead, she recommends "Only using a tanning oil in limited sun exposure in a locale where you are familiar with how long you can tolerate the sun without the oil." Once you add the oil, you should then cut your exposure time by about 25 percent to reduce the risk of burning.
While it goes without saying that if you have a sunburn, you should never apply tanning oil and sit out in the sun, Dr. Loretta also says it's important to be aware that no matter how dark you are to begin with, if you aren't applying SPF, you're still putting your skin's health at risk by tanning (with or without the help of an oil). "If you already have a tan, don't think that this will prevent you from getting a sunburn," she says. Instead, Dr. Loretta recommends using a self-tanner for those who are after bronzed skin.
If you're still set on using a glow-inducing formula out in the sun, here are five of the best tanning oils on Amazon — to be paired with additional SPF, of course.