An Expert Weighs In On The Vitamins That Can Transform Your Hair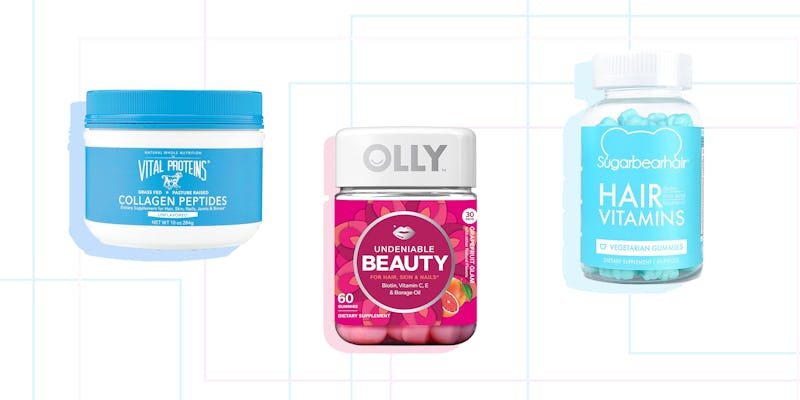 Bustle/Amazon
Sometimes the hair you have could use a little extra love. Maybe you want it to grow longer, stronger, and thicker, or maybe you just want to keep it looking the way it is; healthy, shiny, and vibrant. Good news — by adding one of the best vitamins for hair into your daily routine, you can unlock your hairs full potential.
So how do you know which vitamins are not only safe, but will give you the results you want? For that, it's best to listen to a professional. Take Dr. Shereene Idriss, a Board Certified dermatologist at Union Square Dermatology in NYC for example. When asked about vitamins for hair, she listed a few ingredients to look for and gave a timeline of when to expect results:
"When searching for the right vitamin supplement for your hair, it's important to find one that has the essential vitamins for hair growth. Those include vitamin A, vitamin C, Iron and biotin, which is required to metabolize amino acids, the main building blocks of healthy hair."
Although you should always consult your personal physician in regards to what dose of vitamins is right you, Idriss did suggest a time frame for how long it may take before you see results:
"Ingesting hair supplements do not have an overnight effect. Patience is key when it comes to hair. In order to fully appreciate their effects, I recommend that my patients try the supplements for an average of three to six months in order to fully evaluate their efficacy."
Going along with Dr. Idriss's advice, the five hair-specific vitamin supplements listed below contain ingredients that aid hair growth and with time, improve the overall look, feel, and health of your hair.