These 5-Cup Coffee Makers Brew Just The Right Amount So You Never Waste A Drop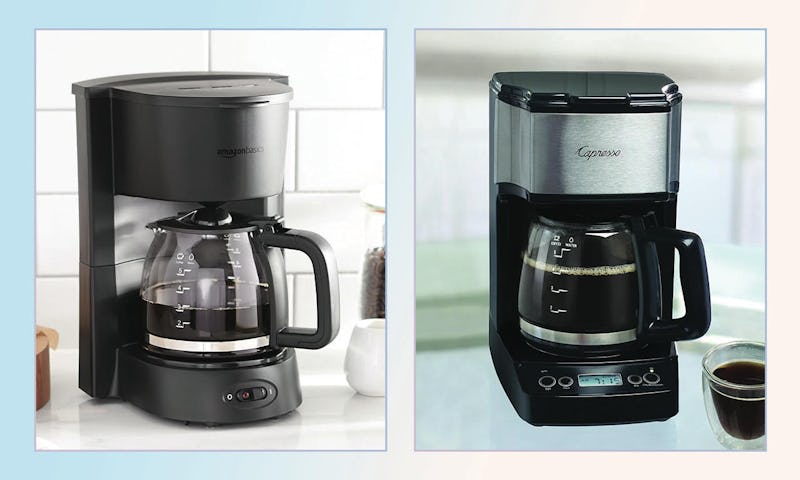 Bustle / Amazon
Many standard coffee makers have carafes designed to hold 10 to 12 cups. But the truth is, that's much larger than most people need on a daily basis. Brewing a large batch in the morning guarantees burnt-tasting (or cold) coffee later in the day. The best five-cup coffee makers will give you the same great-tasting brews as larger models, without making excess cups or taking up as much precious counter space. Here's what to consider while shopping.
Carafe Material
Gone are the days when there were only glass carafes to choose from. Options abound now, from stainless steel to ceramic pour-over setups. Of course, if you're in the market for a drip machine, the big head-to-head comparison is steel versus glass. Here are some pros and cons to each.
Stainless steel: An insulated thermal stainless steel carafe will keep your coffee hot for hours without the need for a hot plate, although if you're a real coffee connoisseur you might find steel can impact the flavor of your brew. Another notorious downside to stainless steel? Not knowing you're out of coffee until you try to pour a much-needed cup.
Glass: This classic option lets you see how much coffee has been brewed and consumed, and it's usually more budget-friendly and easier to clean than vacuum-insulated stainless steel. A glass carafe sits directly on the hot plate, so you don't want to leave it for hours on end, as that will give you that unwanted burnt flavor. In terms of indestructibility, stainless steel wins out since glass can shatter.
Filters
Filters can also impact your coffee experience. A paper filter absorbs some of the oils in your beans to create a milder (though perhaps less nuanced) cup compared to one using a reusable metal filter. Reusable options come with the added benefit of being eco-friendly — and will save you money in the long run because you won't have to stock up on filters from month to month.
Design
A typical five-cup coffee maker will be a standard drip machine. But if you prefer the artisanal thrill of pour-over coffee or a French press, I've included some 5-cup versions here, too.
We only recommend products we love and that we think you will, too. We may receive a portion of sales from products purchased from this article, which was written by our Commerce team.